TLC singer T-Boz: Police lied about cousin's shooting death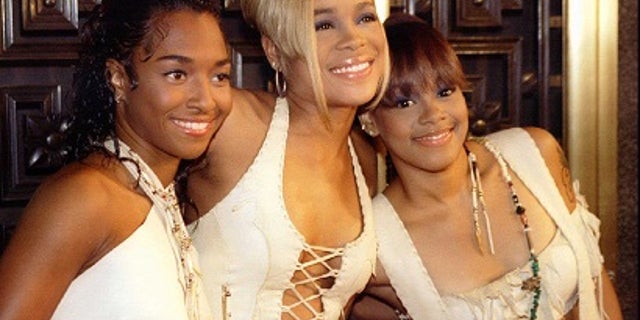 TLC singer T-Boz is claiming Illinois police are lying about the circumstances surrounding the shooting death of her cousin last week following an alleged robbery.
The singer, Tionne "T-Boz" Watkins, 47, took to social media to address the death of her cousin, 25-year-old Eddie Russell Jr.
Watkins said in an Instagram post Sunday that Russell was "non-violent" and police were aware of his mental health issues.
"My Cousin Was Shot 18 Times Including the Face and Back of His Head! He Harmed NO ONE EVER! He Had Mental Health Issues AND THE COPS KNEW THAT! Anything he's ever Done Was minor and NON VIOLENT! Eddie Russell Jr -A Human-Being -A Son- Brother-Friend-Nephew – Cousin-HUMAN!" the singer wrote.
MARC ANTHONY TO TRUMP: SHUT THE F--- UP ABOUT NFL, WORRY ABOUT PUERTO RICO
T-Boz claimed an officer from the Peoria Police Department used "excessive force to gun him (Russell) down." The singer denied her cousin was armed.
"So no camera phones accessible is that why? COPS DIDN'T HAVE ON BODY CAMS now isn't that convenient! They Lied and told family members Eddie Jr was at the hospital to get them away from the house knowing he was dead outside the house where they killed him! They kept his BODY OUTSIDE ON THE GROUND FOR MANY MANY HOURS! First they reported he ran out shooting =LIES! Then one cop shot =LIES! Then 5-6 shots =LIES! Then 5 6 cops shot YEAH CLEARLY! But why SO MANY TIMES?"
The Peoria Police Department released a statement regarding the incident on Friday. The department said officers "shot and killed an armed suspect as he emerged from his home advancing towards officers with a handgun," the statement said.
WENDY WILLIAMS DENIES HUSBAND CHEATING
The statement said officers were deployed to the scene after reports of a robbery at a bank. Russell was identified by surveillance video from the bank, the statement said.
Officers went to Russell's residence after they said they tried to contact him for more than two hours. The Peoria Police Special Response Team was sent to the residence, where they said Russell "emerged from his home and aggressively advanced toward SRT officers with a handgun," the statement said.
Police said the handgun Russell was holding matched the description of the weapon used during the bank robbery.
The department confirmed Russell was shot and died at the scene. The department said no officers were injured and six officers who deployed their weapons were put on critical incident leave.
The singer's Instagram post concluded with a plea asking people to share the incident.
"This was a mentally ill young man who needed help and should have received just that! PLEASE HELP HIS MOTHER AND SPREAD HER STORY SO SHE CAN GET THE HELP SHE NEEDS AND JUSTICE FOR HER SON!!!! His Mother Has Tried For Many Years To Get Her Son Mental Health Counseling He Needed! The system failed Him and Her!" the singer concluded.