THEN/NOW SPECIAL: 'Numa Numa Guy' Fronting Band, Still Single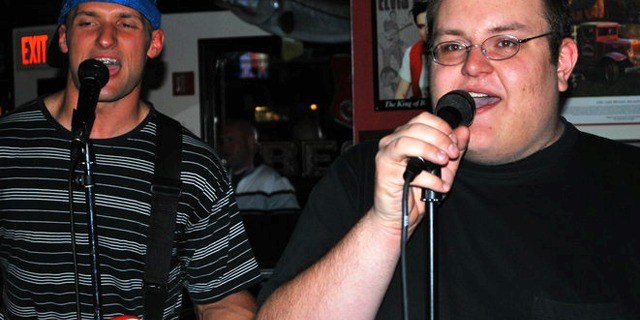 "Numa Numa Guy," born Gary Brolsma, achieved Internet fame by uploading a one-minute-and-40-second video of himself unselfconsciously lip-synching to an obscure Romanian dance song in 2004.
Since that magic moment, the bespectacled 24-year-old has parlayed his notoriety into a fledging career.
"I was kind of shy," Numa Numa Guy told FOX411.com exclusively of his life before he flailed his arms wildly and raised an eyebrow in tune to "Dragostea din tei" by Moldovan pop group O-Zone. "But because of the video, I've opened up a little bit since then."
Numa Numa Guy's video, originally posted to newgrounds.com, has been viewed over a billion times according to his agent, Chris Pierdomenico.
"I was having fun with it," said Numa Numa Guy. "My facial expressions and the song is really catchy—the whole combination of that I think is what made it successful."
Since the video first went viral in 2004, Numa Numa Guy has capitalized on his unique post-millennial fame by appearing in a series of commercials and videos, including Weezer's "Pork and Beans" video, featuring an all-star viral video cast.
"It was a really fun experience for me," Numa Numa Guy said. "We all got to hang out at the end of the shoot. The band members signed my Numa shirt—I still have that! Weezer was really cool with all of us."
At the Weezer shoot, Numa Numa Guy bonded with a fellow viral video star, "Chocolate Rain Guy," aka Tay Zonday. The two hung out in New York City recently while doing promotion for YouTube's Trivial Pursuit game.
Unfortunately, the pair didn't get a chance to tear up the town that night.
"Tay flew in late from Cali, so he was tired. We just ended up staying at the hotel," Numa Numa Guy said.
But Numa Numa Guy and Chocolate Rain Guy do stay in touch.
EXCLUSIVE: Numa Numa Guy Sings for FOX411.com.
Watch the latest video at video.foxnews.com
The Video That Made Him Famous
"I talk with him on the Internet. I'm in New Jersey, and he's all the way in California—we can't just hang out every day," Numa Numa Guy said.
Even though Numa Numa Guy helped sell untold singles of O-Zone's original song, he feels that he never got proper acknowledgement.
"The main singer, Dan Balan, helped me with the song for the third Numa video—Crazy Loop," Numa Numa Guy told FOX411.com. "We went out to dinner one night and did some autograph signings. He shook my hand at the event and I haven't really spoken with him since that. I never got much feedback. My friends have called me saying that they heard the song at weddings and at clubs in the city—and Rihanna and TI sampled it in their song 'Live Your Life.' I guess you could say I brought that song to the market."
Nevertheless, Numa Numa Guy's various opportunities related to viral video fame allow him to live at least relatively comfortably.
"(Numa Numa) is not a full-time career. I still have a part-time job where I do car delivery. If a new car comes out and a journalist needs to write about it, we'll get the car and make sure that everything's safe, everything's clean, and then we'll take the car and drop it off at the journalist's house, and then we hope that journalist writes a good article about the car," Numa Numa Guy said. "I'm doing pretty good with both of those things."
Numa Numa Guy also is the lead singer of an alternative rock band, The Nonetheless. "We have our own original sound," he said. "We've done some cover shows, some early '90s rock."
All of Numa Numa Guy's various projects keep him busy, so there's not much time for dating. "I'm still single at the moment," Numa Numa Guy said. "I've got a full-time job taking care of family here. I was seeing someone on and off, but she moved to Florida."
But that doesn't mean that Numa Numa Guy isn't looking.
"Megan Fox is cute, but she's probably out of my league!" said Numa Numa Guy.
Well, Fox married the "90210 Keyboard Player Guy," so maybe not.
Check out Numa Numa Guy online at: