The Voice: Raquel Castro Voted Off, Vicci Martinez Sings Sexy & Javier Colon Hits All the Right Notes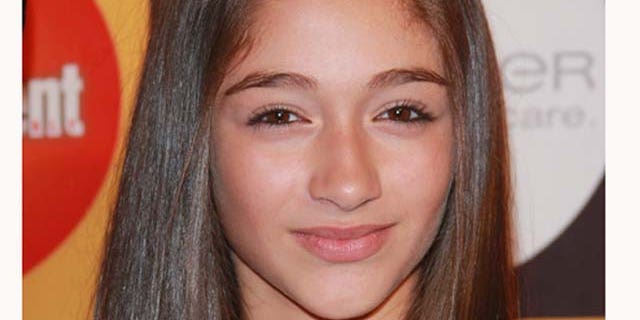 Despite her spot-on rendition of Ke$ha's "Blow" last week, Raquel Castro was sent home, just one of the stunning developments Tuesday night on "The Voice."
Castro, who didn't perform Tuesday night, was the first contestant to be voted off in the live shows. She was rejected by America and Christina Aguilera, her coach, who had the opportunity to save but didn't.
"I will miss everyone in the #thevoice family," Castro tweeted Tuesday night. "I will never forget this amazing experience! So proud of everyone tonight!"
Aguilera chose to save former Broadway star Frenchie Davies. Instead, America's vote went for Beverly McClellan.
"Love my girls," Aguilera wrote on her Twitter page moments after the show. "So hard to see some go but they are all #TeamXtina for life!"
Meanwhile, Cee Lo Green's team member, Vicci Martínez, sang Dolly Parton's 1974 classic "Jolene." Wearing a glittery shirt and tight leather pants, Martínez, stepping on the stage with her guitar, rocked the house and demanded everyone's attention with every note.
Aguilera said Martínez's performance was "heartfelt."
"I loved your use of the stage," Aguilera said. "The ambiance, it was sexy."
Green, who refers to Martínez as the "warrior" of his crew, knew she had the skills to nail the performance, but seemed concerned with some of Martínez's weaknesses.
"She has all the heart and soul," said Green. "But she needs to work on the total package."
Among the other judges, Maroon 5's Adam Levine called her singing "raw and honest" while country star Blake Sheldon said it was "explosive."
Javier Colón also took the stage to represent Levine's team.
"The humble family man," as he is known on the show, decided to sing Sarah McLachlan's song "Angel."
"It reminds me of a lullaby I used sing to my kids," Colón said. "My plan is to take one song at a time. If not there is no tomorrow."
Levine expressed how Colón's biggest strength is also his biggest weakness.
"Javier's biggest strength is his range," said Levine. "But it's also his biggest problem...learning how to scale back."
Aguilera was captivated, once again, with Colón's vocal abilities.
"The one that got away! Javier! You are talented!" Aguilera said. "That's one of my favorite songs and you really made it your own."
Green agreed with Aguilera, and hinted that Colón could win the entire competition.
"Your ability epitomizes this show," said Green. "You really have the voice of an angel."
You can reach Alexandra Gratereaux at: Alexandra.Gratereaux@foxnewslatino.com
or via Twitter: @GalexLatino
Follow us on twitter.com/foxnewslatino
Like us at facebook.com/foxnewslatino