'The View' host Joy Behar suggests Orrin Hatch should 'go to jail' for not speaking out against Trump
NEWYou can now listen to Fox News articles!
ABC News' "The View" co-host Joy Behar declared on Thursday that retiring Sen. Orrin Hatch (R-Utah) "maybe" should be sent to prison for not speaking out against President Trump.
"I don't know if you saw this clip of Orrin Hatch, the esteemed, so-called senator from Utah," Behar said. "I used to like him because he was very friendly with Teddy Kennedy," the late Massachusetts senator.
Behar then described a clip – that ABC News did not air during the segment – in which she claimed Hatch said he didn't care if President Trump and his former attorney Michael Cohen committed crimes together.
"'I don't care,' he said, 'the president's doing a good job," Behar said. "Where have we come when a senator from Utah is saying, 'I don't care if he committed a crime?'"
Behar apparently was referencing a CNN interview with Hatch in which the senator was asked about Trump's links to Cohen. Hatch said, "All I can say is this: President Trump, before he became president, that's another world. Since he's become president, this economy has charged ahead. We're all better off, the country is better off."
When the reporter mentioned that the U.S. Attorney for the Southern District of New York is a Trump appointee, Hatch said: "I don't care. All I can say is, he's doing a good job as president."
"View" co-host Meghan McCain reminded Behar that Hatch is "almost gone" when Behar fired back, "Don't they care about democracy anymore?"
TRUMP: MIKA BRZEZINSKI WOULD BE 'BANNED' FROM TV OVER HOMOPHOBIC SLUR IF SHE WERE CONSERVATIVE
McCain complimented Hatch's "hilarious" Twitter account before the show went to a commercial break. Behar was still fired up and continued the conversation when it returned from the break.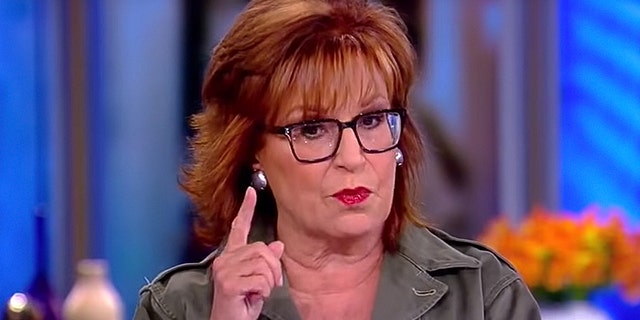 "He is going out of office. He has nothing to lose by speaking, against, truth to power about Trump," Behar said. "Why does he say, 'Even if he commits a crime, it's OK?' Maybe he needs to go to jail, too."
Nobody on the panel immediately checked Behar for her comment and the discussion quickly pivoted to the pros and cons of being angry. Behar appeared to make the comment in jest, and it drew laughter from the audience. However, Behar has found herself in hot water with political rhetoric in the past.
VOX MOCKED FOR SEEKING CONSTITUTIONAL OVERHAUL SO OCASIO-CORTEZ CAN RUN FOR PRESIDENT
Behar recently apologized after saying "God forbid" Trump lives another 20 years and has come under fire for mocking Vice President Pence's Christian faith. She essentially has rejuvenated her career with over-the-top anti-Trump rhetoric and last month declared that it would be "a good day for Donald Trump to resign."
Meanwhile, former Massachusetts governor and Republican presidential nominee Mitt Romney won the race to succeed Hatch.