'The Office': Michael Scott returns for series finale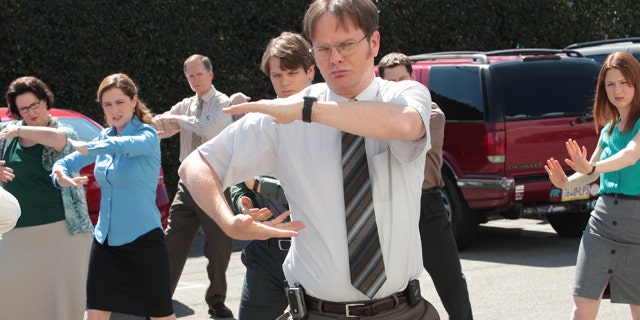 That's a wrap!
Dunder Mifflin Paper Co. lives on, but "The Office" has closed shop.
The NBC workplace comedy, set at the fictional company's Scranton, Pa., branch, aired its finale Thursday to end an eight-year run.
As expected, office manager Dwight wed tempestuous co-worker Angela, with whom he previously shared a secret affair. He had abruptly proposed to her on last week's episode.
And as a welcome surprise, former manager Michael Scott was back to serve as Dwight's best man.
It was an answered prayer not only for Dwight (who greeted him with a choked-up "I can't believe you came"), but also for viewers who were hoping that Michael might make a surprise visit in the person of Steve Carell. NBC had stayed mum on whether Carell, the star of "The Office" until his departure two seasons ago, would be in the finale or not.
"I feel like all my kids grew up and then they married each other," said Michael to the camera at the wedding reception. "It's every parent's dream!"
"The Office" premiered in 2005. It was based on the British comedy of the same name, which premiered in 2001. It starred and was co-created by Ricky Gervais. During its run on NBC, it picked up four Emmys and a prestigious Peabody award.
Other Dunder Mifflin alumni who were back for the finale included Kelly (Mindy Kaling) and Ryan (B.J. Novak).
Set a year after last week's episode, the finale provided comfortable and affectionate closure for the characters and the viewers who love them.
For instance, Andy (Ed Helms), who had left the company to chase stardom, hadn't gotten very far, beyond becoming a laughingstock from a viral video of him bursting into tears when he auditioned for a talent competition.
He had since landed an administrative job at Cornell University.
A "where-are-they-now?" panel reunited the subjects of the Dunder Mifflin mockumentary, whose make-believe production had consumed the run of "The Office" and functioned as its narrative frame.
"Do you feel that your life is pointless, now that nobody is filming you anymore?" one audience member asked.
"Yes," replied Toby (Paul Lieberstein) sadly.
In response to another question, Pam (Jenna Fischer) described her relationship with husband Jim (John Krasinski) as being "like a long book that you never want to end, and you're fine with that, because you just never, ever want to leave it."
"Like `Harry Potter,"' cooed the questioner as the audience went, "Awwwwwwwww."
Meanwhile, Dwight (Rainn Wilson) and Angela (Angela Kinsey) celebrated their wedding, preceded by scenes of the male and female bachelor parties.
Along the way, Dwight buried the hatchet with Kevin (Brian Baumgartner), who had bought a bar after Dwight fired him from the company.
"It was nothing personal," Dwight tried to explain. "It's just that you were terrible at your job."
"You're just saying that to make me feel better," said Kevin, accepting his apology.
At the end of the episode, Pam and Jim committed to an overdue exit from their dead-end Dunder Mifflin jobs to start a new life far away, in Austin, Texas.
When they broke the news to Dwight, he fired them on the spot. But he did it as a favor: to qualify them for severance pay.
Moments later, the series' final words were voiced to the camera by Pam, who marveled at all that "The Office" had captured on film: "There's a lot of beauty in ordinary things," she declared. "Isn't that the point?"