'The Conjuring' scares up $41.5M to top box office as another big-budget movie bites dust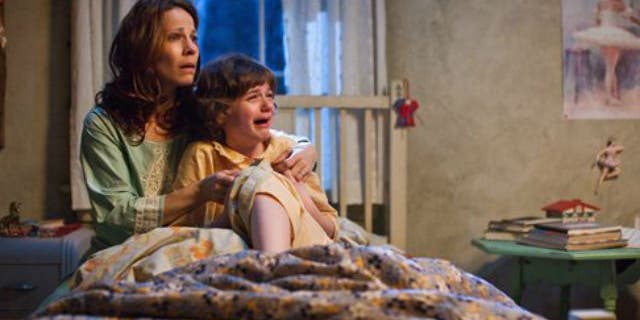 SAN DIEGO – Moviegoers were ready for a fright this weekend, sending "The Conjuring" into first place at the box office, while "R.I.P.D." became the summer's latest big-budget action film to bite the dust.
"The Conjuring," a haunted-house thriller from Warner Bros., debuted with $41.5 million in North American ticket sales, according to studio estimates Sunday. Starring Vera Farmiga, Lili Taylor, Patrick Wilson and Ron Livingston, "The Conjuring" unseated two-week box-office champ "Despicable Me 2," which dropped to second place with $25 million.
"The Conjuring" was among four new releases tempting moviegoers this weekend. The newest animated offering, Fox's "Turbo," opened with $21.5 million, good for third place. Fox's head of domestic distribution, Chris Aronson, characterized the opening as "a very promising start," noting that the film won't open in Europe until the fall.
But Universal's big-budget crime caper "R.I.P.D." opened with a disappointing $12.76 million. The film reportedly cost more than $130 million to make, compared to only about $19.5 million for "The Conjuring."
Starring Jeff Bridges and Ryan Reynolds, "R.I.P.D" joins the year's other mega-budget summer flops, including "Pacific Rim," ''White House Down," ''After Earth" and "The Lone Ranger."
Overall box office totals are up, though, said Paul Dergarabedian of box-office tracker Hollywood.com.
"Despite the fact there have been some high-profile, high-budget flops, the summer to date is up 12 percent from last year," he said. "For mid-July, to have a modestly budgeted horror film top the weekend tells you how important it is for audiences to have options."
The Adam Sandler-produced Sony comedy "Grown Ups 2," starring Kevin James, Chris Rock, David Spade and Salma Hayek, held onto fourth place in its second week of release, earning $20 million.
Summit Entertainment's "Red 2," which stars Bruce Willis and Helen Mirren as retired CIA operatives, debuted in fifth with $18.5 million.
"The Conjuring" was originally set for release in the winter, but audience tests proved so positive that the studio moved the film to the heat of summer movie season.
"It was really a bold choice, no question about it," said Jeff Goldstein, Warner Bros. executive vice president of theatrical distribution. "With three other movies against us this week with high price tags and high expectations associated with them, this result is even more impressive."
Still, there was no chance for this weekend's movies to match box-office totals for the same weekend last summer, when "The Dark Knight Rises" opened with $161 million domestically.