'The Big Bang Theory' recap: Things get steamy between Sheldon and Amy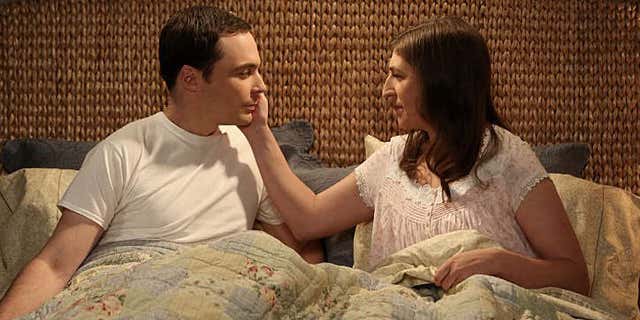 NEWYou can now listen to Fox News articles!
And it all led up to a big bang!
Sheldon (Jim Parsons) has lots of ideas about how to surprise Amy (Mayim Bialik) for her birthday on this week's game changing episode of "The Big Bang Theory."
He considers offering her a chance to play harp with the L.A. Philharmonic — (a gift he cannot possibly deliver) — or trip for one to the Wisconsin Wool and Sheep Festival…
But in the end, a visit from Professor Protron (Bob Newhart) helps persuade him to offer the gift she would ultimately appreciate the most: "Amy's birthday present will be my genitals!"
Yes, TV's favorite nerd couple officially consummated their relationship after more than four years together. It's a move Sheldon himself probably never would have imagined.
"Intimacy in any form has been challenging for me," he confides in Penny (Kaley Cuoco) and Bernadette (Melissa Rauch). "But I would like to show her how important she is and it feels like now might be the right time."
Of course there is one slight problem: Penny's birthday and the intended intimate encounter fall on the same day that the new "Star Wars" movie opens.
Sheldon painfully gives up his pre-purchased movie ticket while Amy decides to get a bikini wax in preparation for the big night.
Later, Professor Proton visits Sheldon again. Sheldon confides he is a virgin.
Cut to Amy's apartment. It is dimly lit and filled with candles. She is aggressively trying to get Sheldon in the mood. "I thought maybe we could do presents first," she teases.
Amy has always been the more romantic of the two. Tonight is no exception.
"I know your present is for us to be intimate tonight," she says.
"Is that alright?" he responds as Amy leans over to kiss him.
Meanwhile, Leonard and the rest of the gang are at the movie theater worried about what happens if 'Star Wars' doesn't live up to the hype.
"No matter what happens, we are coming back tomorrow to watch it again," Leonard deadpans.
Back at home, Amy has now changed into a knee length pink nightgown. Sheldon is wearing a white T-shirt and waiting nervously in her bed.
"Should I get under the covers with you?" she asks.
"Alright" he replies.
Then an awkward silence.
Amy admits she is nervous because she has built the moment up in her head for so long and doesn't know what to expect.
"Neither do I, but we can find out together," he responds.
After a quick check in at the theater — (of course they loved the movie) — we return to Amy's apartment to find the happy couple relaxing in the afterglow of their first intimate encounter.
"I enjoyed that more than I thought I would," Sheldon admits.
"I look forward to your next birthday when we do it again."
Four4Four: Is all the 'Star Wars' stuff just too much for you?