'The Bachelorette' recap: Des takes the guys to Portugal, predictable suitor sent home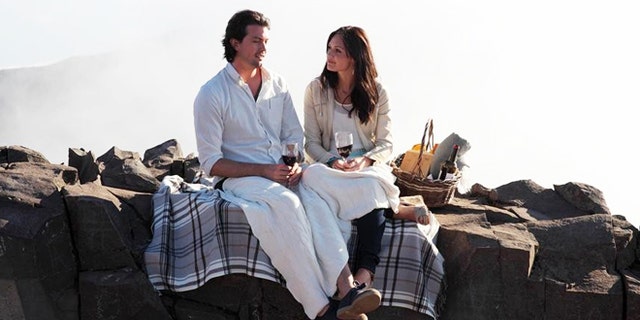 Now that all of the "Bachelorette" bad boys have been weeded out, this week's episode proved to be a bit boring, with by-the-book one-on-one dates, a drama-free two-on-one, and a predictable elimination at the rose ceremony.
To kick off the week, Bachelorette Desiree Hartsock invited three of the women from her season of "The Bachelor" to meet her on Madeira Island in Portugal to dish on the remaining men. Jackie Parr, Lesley Murphy, and Catherine Giudici—Bachelor Sean Lowe's fiancée—whipped out a pair of binoculars and spied on the men hanging out by the pool, bombarding Des with questions about them.
Des' first one-on-one of the week was with frontrunner Brooks Forester. The two drove around the island, and sat on a cliff talking, with the clouds all around them.
"In this moment I think I'm falling in love," Des said. "I could see Brooks as my husband. This is the fairytale that I signed up for. "
Brooks isn't quite there yet.
"I'm a little bit behind in my emotional process," he said. "I hope that in the end we both are on cloud nine. But I still have questions."
Des also invited Chris Siegfried on a date—the two took a yacht to a deserted island and wrote a poem together to create a message in a bottle.
"He has all the qualities that I've been looking for that would make a great husband," Des said. "Chris is so romantic and so creative."
As the date progressed, Chris struggled to tell Des he loved her, but was eventually able to do so in another poem.
"It couldn't have been any better," Des said. "For him to be so open and ready for that is huge. It really let me know that I'm falling for him."
Michael Garafola also got a one-on-one with Des. They spent the day walking around town and during dinner, he told her about a bad breakup where he found out his girlfriend was cheating after a friend spotted her with another man in a Facebook photo.
"I collapsed," he said.
Des was impressed with his honesty.
"It took a lot for him to tell me how he felt about me," she said. "It's nice to know after being heartbroken he can find love again."
All of the pressure was off during this week's two-on-one date because the guy who didn't get a rose was not sent home immediately—getting a rose just ensured that Des would definitely meet his family.
And that guy was Drew Kenney. After a day of Go-Karting and picnicking, Des decided to give him the rose over Zak Waddell, who drew Des some sketches of their various dates.
But it's okay, because Zak got a rose at the ceremony later. So did Brooks and Chris, leaving Michael to head for the limo back to the airport.
In a classy goodbye, Michael told Des that he wished her nothing but the best.
"I thought I was in a place to make you happy for the rest of your life," he said. "I'm heartbroken, but I think the world of you."
"You have four great guys," he added.
Next week, Des heads back to the States—four different parts—to meet the remaining men's families on hometown dates.