'The Bachelorette': Des discovers Brian has a girlfriend back home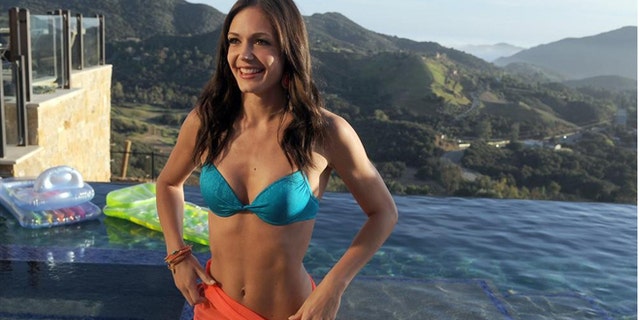 The highlight of this week's episode of "The Bachelorette" is again a guy who is not there for the right reasons because…he has a girlfriend back home!
Host Chris Harrison called Des (never a good sign) and told her that he has crazy news about one of the guys and asked her to come to the mansion to sort it out.
It turned out that Brian Jarosinki had a girlfriend back home.
Des took him outside and gave him a chance to come clean, but of course he doesn't. He flat out denies having a girlfriend.
"Really? Because she's here," Des said angrily, as Chris led Brian's girlfriend, Stephanie, to the backyard. Uh oh.
Stephanie immediately started to flip out.
"You told me you weren't going to see anyone," Stephanie said trying to hold back tears. "I tried to break up with you the day before you came out here."
Stephanie said Brian had just told her to give him some time to sort things out, and they would reunite for dinner on May 10—when Brian assumed "Bachelorette" filming would be over.
"It takes someone with no character to come onto a show looking for love knowing he has a relationship back home," Des said as a producer led Brian away into a waiting car.
But alas, the show must go on. The rest of the cast spent this week's episode on elaborate group dates.
On the first, Des took 10 guys to work on their sports skills with members of the National Dodgeball League. After a bit of practice, Chris came out and announced that the guys would be playing against each other.
Clad in bright blue and red short shorts, the men were driven to an arena where they were to compete in a three-on-three tournament for a huge crowd in front of an outdoor mall. The winners would get to continue their date with Des.
"I want to see how the men interact with each other," Des said. "I like seeing guys in their natural state."
The game got heated and Brooks Forester ended up breaking his finger and was rushed to the hospital. Yikes.
Although the blue team won two out of three rounds, Des proclaimed that the group was "all winners" and took the whole bunch to the second part of the date. Aw.
"I want to bring everyone to the party because it's still early on and I need time with each and every one of them," she said.
The sob story of the week came during the after party. Brad McKinzie confessed to Des that he has a 3-year-old son, Maddox, and is raising him by himself, because his son's mom is an alcoholic.
The date took a turn for a better, though, when Brooks got back from the hospital with his finger in a cast—still wearing his short shorts.
Dark horse Chris Siegfried got the group date rose after he found a way to get on the roof of the building they were in and take Des up there for a romantic chat.
"Chris continues to surprise me, because there are little personality traits that I absolutely love in him," Des said gushing.
Des' other group date involved taking a bunch of the guys to meet a professional stuntman and working on their skills while dressed in cowboy outfits.
After deciding Juan Pablo Galavis was the one who "owned it," Des took him to a private screening of "The Lone Ranger." The two sat among bales of hay and fed each other popcorn.
Des met up with the rest of the guys after her movie date and gave a rose to James Case, who, like Chris, came out of nowhere, but impressed Des by talking about his father's medical issues.
The one-on-one date of the week was a bit of a snooze, as Des invited Kasey Stewart to scale a building with her (this happens EVERY single season).
Des was distracted the whole time because she was still angry about Brian lying, but she ended up giving Kasey a rose anyway.
"This date is not [working] the way I was hoping it would, but it's not Kasey's fault," she said.
Ah, yes, and there's some more drama with sneaky dad Ben Scott.
When Des canceled the cocktail party in lieu of a daytime pool party, Ben crept outside and stopped Des before she got to the backyard, asking her to go on a pre-party drive with him in her Bentley.
A couple of the guys looked down into the driveway and witnessed the pair kissing in the car, including Mikey Tenerelli (the dude who keeps having confrontations with Ben about his stealthy ways.)
When Mikey asked Ben if he had gotten any alone time with Des yet, Ben lied and said no.
"If he were to just admit it, I would tip my hat and said good job, Ben, you're aggressive," Mikey said.
Of course, Mikey took his wingman, Michael Garafola, and they asked Ben to have another chat, where they again called him out for being deceitful.
This week's confrontation was teased to look worse than it was, because it just ended up being really awkward.
At the rose ceremony, Brandon Andreen and Dan Cox were sent home, both fuming that Ben got to stay instead of them.