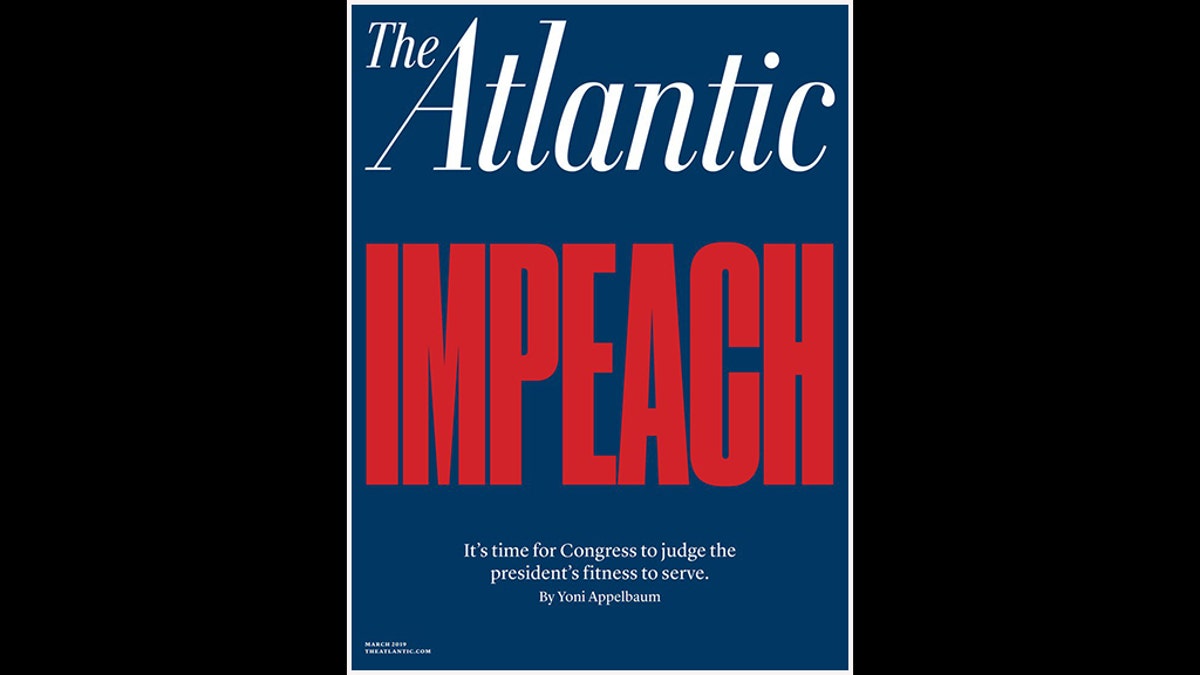 The Atlantic unveiled its latest cover story on Thursday as the mainstream media continues to lead the charge to impeach President Trump.
The cover features the all-caps word "impeach" in bold red atop the text, "It's time for Congress to judge the president's fitness to serve."
CNN LEGAL ANALYST ACCUSES DAVID WEBB OF 'WHITE PRIVILEGE' BEFORE LEARNING HE'S BLACK
The magazine follows in the footsteps of anti-Trump cable news hosts such as MSNBC's Joe Scarborough and CNN's Brian Stelter who have repeatedly questioned the president's mental fitness.
The cover story for the upcoming March issue is already available online and senior editor Yoni Appelbaum makes his case regarding his desire to see the president removed from office in a lengthy feature that is over 7,000 words.
"He has mounted a concerted challenge to the separation of powers, to the rule of law, and to the civil liberties enshrined in our founding documents. He has purposefully inflamed America's divisions," Appelbaum wrote. "He has set himself against the American idea, the principle that all of us—of every race, gender, and creed—are created equal."
Appelbaum then claims his hot take is not "partisan judgment," because there are also Republicans who don't care for President Trump.
JEMELE HILL JUMPS TO THE ATLANTIC FROM ESPN AFTER EXPRESSING ANTI-TRUMP SENTIMENTS
"Even officials and observers who support his policies are appalled by his pronouncements, and those who have the most firsthand experience of governance are also the most alarmed by how Trump is governing," he writes.
The Atlantic cover story declares that Trump "displays no evidence that he understands" his obligations and "has routinely privileged his self-interest above the responsibilities of the presidency."
NETWORKS' NIGHTLY NEWSCASTS HAVE 'INCESSANTLY HOSTILE' TONE TOWARD TRUMP, STUDY INDICATES
Appelbaum's solution is Impeachment, which "is a vital protection against the dangers a president like Trump poses." He argues that the House of Representatives should immediately open a formal impeachment inquiry.
"With every passing day, Trump further undermines our national commitment to America's ideals. And impeachment is a long process," he wrote.
The Atlantic, which has been around since 1857, aims to "embrace a diversity of perspectives," according to its website, went all in with its plea for impeachment, even posting a video to YouTube.