Taylor Swift says she voted for Democrat Phil Bredesen: 'Please don't sit this one out'
Pop star Taylor Swift announced on social media she and her mother voted for Democratic Tennessee Senate candidate Phil Bredesen and urged others to also go out and vote.
Swift, 28, posted a picture of her and her mom posing next to a Bredesen sign. The mother and daughter duo were waving American flags in the photo.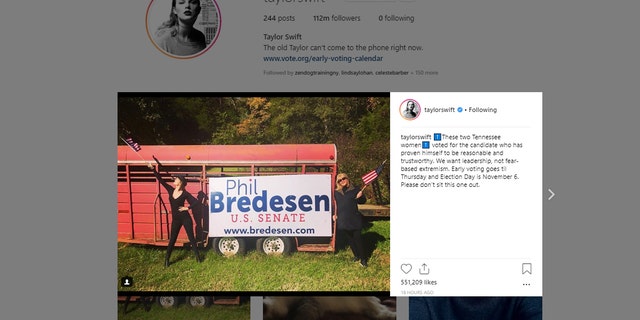 "These two Tennessee women voted for the candidate who has proven himself to be reasonable and trustworthy," Swift wrote. "We want leadership, not fear-based extremism. Early voting goes till Thursday and Election Day is November 6. Please don't sit this one out."
TAYLOR SWIFT'S POLITICAL INSTAGRAM POST CAUSES SPIKE IN VOTER REGISTRATION, ORGANIZATION SAYS
Earlier this month, the Grammy Award-winning singer broke her political silence and announced she would be voting for Tennessee Democrats in the midterm elections. She also criticized incumbent Republican Senate candidate Marsha Blackburn in an Instagram post.
"As much as I have in the past and would like to continue voting for women in office, I cannot support Marsha Blackburn," Swift told her 112 million Instagram followers earlier this month. "Her voting record in Congress appalls and terrifies me."
TRUMP SAYS HE LIKES TAYLOR SWIFT 'ABOUT 25 PERCENT LESS' AFTER MARSHA BLACKBURN DIG
Following her post, new voter registration surged nationwide and in her home state of Tennessee. Her endorsements also captured the attention of President Trump who told reporters that he likes Swift's music "about 25 percent less."
"I'm sure Taylor Swift has nothing or doesn't know anything about her," Trump said of the 28-year-old singer. "Let's say that I like Taylor's music about 25 percent less now, OK?"
Fox News' Nicole Darrah contributed to this report.