Taylor Swift's political Instagram post causes spike in voter registration, organization says
NEWYou can now listen to Fox News articles!
New voter registration has surged in the wake of pop superstar Taylor Swift's rare political statement on Sunday.
Fox News obtained data from Vote.org on Tuesday that shows new voter registration spiked nationwide, and in her home state of Tennessee, after the singer's post.
Kamari Guthrie, the director of communications for Vote.org, told BuzzFeed News that the organization was "up to 65,000 registrations in a single 24-hour period" since Swift's post.
Vote.org said 56,669 people registered nationwide in August, and 190,178 registered in September.
So far, 153,978 people have registered nationwide in October, and we're just nine days in.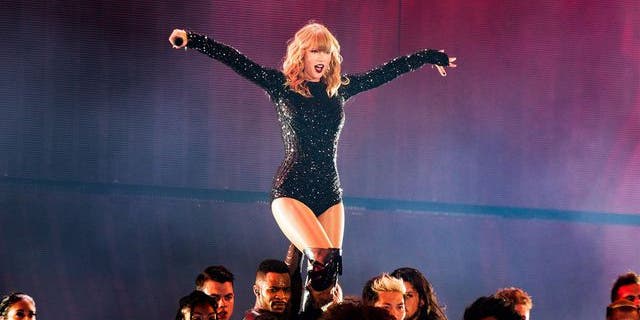 "Taylor's post has helped bring out young voters: a majority of new registrations since Sunday have been from people between 18 and 29 years old (about 64K out of the 105K total new registrations)," Vote.org said in a statement regarding Swift's Instagram post. "We're especially happy to see that because we know voting is habit-forming; statistically, a young person who votes in 2018 is 55 percent more likely to vote again in 2020."
The organization also said it received at least 2,144 voter registrations from Tennessee residents in the past 36 hours since her post, almost half of the 5,183 people who have registered to vote there in October.
TRUMP SAYS HE LIKES TAYLOR SWIFT 'ABOUT 25 PERCENT LESS' AFTER MARSHA BLACKBURN DIG
On Sunday, Swift broke her political silence with an Instagram message. She bashed Republican Senate candidate Marsha Blackburn, currently a state congresswoman.
"As much as I have in the past and would like to continue voting for women in office, I cannot support Marsha Blackburn," Swift told her 112 million Instagram followers. "Her voting record in Congress appalls and terrifies me."
Swift said the congresswoman "voted against equal pay for women. She voted against the Reauthorization of the Violence Against Women Act, which attempts to protect women from domestic violence, stalking, and date rape. She believes businesses have a right to refuse service to gay couples. She also believes they should not have the right to marry."
TAYLOR SWIFT BASHES BLACKBURN IN FAVOR OF TENNESSEE DEMS, BREAKING POLITICAL SILENCE
"These are not MY Tennessee values," the "Fearless" singer said online.
Swift wrote she will be voting for Democrat Phil Bredesen for the Senate, and also for Rep. Jim Cooper, a Democrat who's running for re-election.
In 2016, Blackburn won her House re-election race, defeating Democrat Tharon Chandler. She represented Tennessee's 7th congressional district. Blackburn received more than 72 percent of the vote, The New York Times reported. Blackburn is running to replace Republican Sen. Bob Corker's seat. Corker announced last year that he will be retiring from the Senate. Bredesen is running against Blackburn.
Following Swift's endorsements, President Trump told reporters on Monday that he likes her music "about 25 percent less."
"I'm sure Taylor Swift has nothing or doesn't know anything about her," Trump said of the 28-year-old singer. "Let's say that I like Taylor's music about 25 percent less now, OK?"
Fox News' Nicole Darrah contributed to this report.