Tavis Smiley vows to fight for his reputation after PBS suspended him for sexual misconduct allegations
NEWYou can now listen to Fox News articles!
Tavis Smiley is calling out PBS for making what he says was a rush decision to suspend him after the television personality was accused of sexual misconduct.
He told ABC's "Good Morning America" Monday he never coerced anyone into a relationship but had consensual relationships in the workplace which he said was not against PBS' policies.
Smiley admitted that he's human and has made mistakes, but that they don't merit a suspension.
He said he applauds the women coming forward to share their sexual assault and harassment experiences "to lead us in a conversation about how to create healthy workspaces."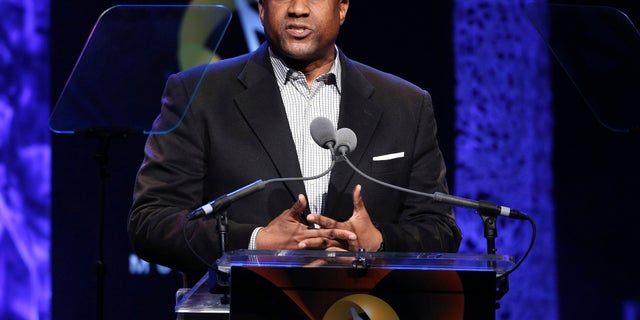 However, Smiley said it's important to not lose a sense of "proportionality" in the conversation, "because if we do, people end up being guilty simply by accusation."
PBS responded in a matter of hours, saying Smiley's acknowledgement of multiple relationships contradicted his previous statements.
"Tavis Smiley needs to get his story straight," it said in a statement, which also promised more accusations: "Additional allegations are continuing to come to light since last week's announcement."
PBS also derided Smiley's claim that he applauds women who have come forward, pointing out that Smiley's company hinders such actions by requiring former and current employees to sign non-disclosure agreements. "Witnesses who have bravely come forward to speak with the independent investigators retained by PBS report a fear of retribution for speaking out," it said.
PBS suspended Smiley last week issuing a statement, "Effective today, PBS has indefinitely suspended distribution of 'Tavis Smiley,' produced by TS Media, an independent production company."
While Smiley contends his innocence, PBS said in its statement the network "uncovered multiple, credible allegations of conduct that is inconsistent with the values and standards of PBS."
Smiley intends to fight the allegations.
PBS also fired Charlie Rose after he was accused of multiple sexual harassment claims in November.
Rose issued a statement to the Post in November that read in part, "In the past few days, claims have been made about my behavior toward some former female colleagues… It is essential that these women know I hear them and that I deeply apologize for my inappropriate behavior. I am greatly embarrassed."
NPR's chief editor, Michael Oreskes, resigned on the heels of sexual misconduct allegations last month.
The Associated Press contributed to this report.