T.J. Miller arrested at NYC airport after making false bomb threat on Amtrak train, officials say
T.J. Miller was arrested Monday night at New York City's LaGuardia Airport after he allegedly made a false bomb threat on an Amtrak train in March, authorities said.
Miller, whose full name is Todd Joseph Miller, was released Tuesday on $100,000 bond after appearing before a judge, the United States Attorney for the District of Connecticut said in a news release. He was charged with "intentionally conveying to law enforcement false information about an explosive device on a train traveling to Connecticut."
The former "Silicon Valley" star is accused of calling police on March 18 while he was on an Amtrak train to report that a woman with brown hair and a scarf "has a bomb in her bag." He said the train was traveling from Washington, D.C., to New York City's Penn station.
Amtrak officials stopped the train in Westport, Conn., and bomb squad members searched the cars but found no evidence of explosive material onboard.
T.J. MILLER'S COMEDY CENTRAL SHOW CANCELED AMID SEXUAL ASSAULT ALLEGATIONS
Investigators soon found inconsistencies with Miller's story, including the fact that he was on a different Amtrak train. The 36-year-old comedian appeared intoxicated and drank several alcoholic drinks during the train ride, the complaint said.
When an investigator called Miller again -- who was already in New York -- the former "Silicon Valley" star described the woman again, but instead said she had red hair and was carrying "a black bag carry-on suitcase with a handle." He claimed he drank "one glass of red wine" when asked if he was intoxicated.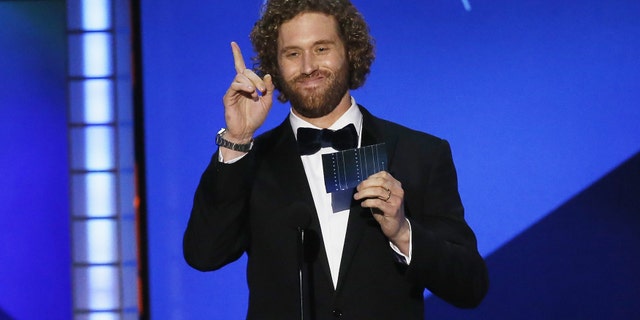 "He said she kept checking her bag without taking anything out; kept asking the First Class attendant what the next stop was, and seemed to want to get off the train and leave her bag behind," the complaint stated, according to the news release.
Officials investigated Miller's actual train when it arrived at the Westport stop and an Amtrak attendant said Miller had "hostile exchanges" with a woman who was sitting in a different row in the first class car. Officials interviewed the woman and found she wasn't carrying an explosive, as Miller described, and wasn't constantly checking her bag.
"The complaint further alleges that Miller, motivated by a grudge against the ... female, called 911 to relay false information about a suspected bomb on the train, and continued to convey false information to investigators while the public safety response was ongoing," the statement read.
COMEDIAN T.J. MILLER DENIES ACCUSATIONS OF SEXUAL ASSAULT, PUNCHING FEMALE COLLEGE CLASSMATE
The arrest comes months after sexual assault allegations were made against the comedian. An anonymous woman came forward and told The Daily Beast in December that she and Miller had a consensual relationship in college but recalled distinct moments of unwanted and violent encounters with the comedian. The accuser described the graphic details of the alleged assaults to The Daily Beast, including a time when Miller reportedly choked and punched her.
Miller and his wife, Kate Gorney, denied the allegations, saying the victim "began again to circulate rumors online once [my and Kate's] relationship became public."
"Sadly she is now using the current climate to bandwagon and launch these false accusations again," the Millers wrote. "It is unfortunate that she is choosing this route as it undermines the important movement to make women feel safe coming forward about legitimate claims against real known predators."
Fox News' Morgan Evans and Kathleen Joyce contributed to this report.