Stormy Daniels shares sketch of man she says threatened her, goes after Trump on ABC News' 'The View'
ABC News continued to provide a safe space for anyone looking to rail against President Trump, with adult film star Stormy Daniels and her attorney Michael Avenatti appearing on "The View" Tuesday morning.
ABC has emerged as the most comfortable broadcast network for critics of Trump to air their grievances, evidenced by former FBI Director James Comey's recent interview with "Good Morning America" host George Stephanopoulos. Tuesday was no different and "The View" co-host Whoopi Goldberg opened the "exclusive" interview by asking Daniels why she is appearing on the show despite being sued by Trump for speaking out.
"I'm done being bullied," the adult film star responded while wearing a key around her neck, invoking questions as to whether or not Daniels feels she is literally the key to all controversy surrounding the president.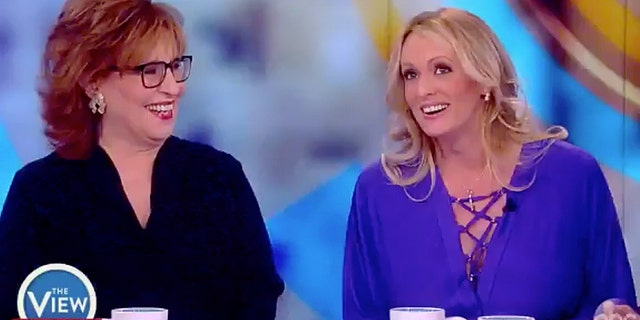 Avenatti claimed that Daniels' appearance at Monday's Michael Cohen court hearing was not a publicity stunt, but conservative co-host Meghan McCain pointed out that it sure felt like it was.
"It seemed like you were trying to get attention," McCain said. "It has been beneficial for your career."
Daniels admitted that her newfound fame has resulted in additional bookings at strip clubs. "I'm making more money," she said.
Co-host Joy Behar told Daniels not to apologize for making a living before the panel mocked a video of Trump denying the alleged affair.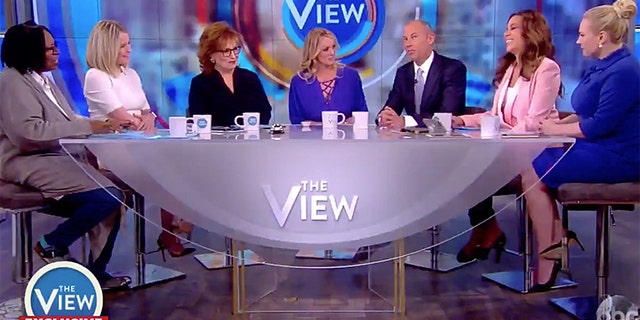 "I work in the adult business and I'm a better actress than he is," Daniels said of Trump as the panel chuckled.
Avenatti had teased the Daniels appearance, taking to Twitter to promise the he would release the composite sketch of the man she claims threatened her in 2011 to keep quiet about her alleged affair with Trump. Daniels was asked to remind viewers about the alleged threat that she first detailed in a recent sit down with Anderson Cooper on CBS' "60 Minutes."
Daniels said the face of a mysterious man who told her to leave Trump alone was burned into her memory. She claims to have worked with a sketch artist and the illustration was eventually revealed on the show. During the show, Daniels and Avenatti offered a $100,000 reward for help identifying the man.
Daniels was portrayed as a family woman simply seeking the truth, but Behar pressed her about why any woman would have sex with someone they're not attracted to, allowing the adult film star an opportunity to justify her alleged decision to sleep with the married Trump.
"It was not prostitution," Daniels said. "What I do for a living should not matter."
At one point Daniels even said that she didn't select the name of her strip club tour, "Make America Horny Again."
The Disney-owned ABC News aired a one-hour primetime special on Sunday night featuring Comey promoting his new anti-Trump book, "A Higher Loyalty," during an interview with Stephanopoulos. The network chose not to air several key moments, such as when Comey ripped former President Barack Obama. Comey criticized Obama for comments made during the bureau's investigation into Hillary Clinton's private email server, suggesting the former president "jeopardized" the Justice Department's "credibility."
However, viewers would need to access the entire five-hour interview via its transcript online to know about Comey's comments on Obama. The reliably liberal network had to make extensive edits to the marathon interview and ultimately decided that Comey's personal thoughts on Trump's appearance were more relevant than any shots he took at Obama. The fired FBI boss mocked Trump's skin, tie length, hair and even white circles around his eyes during his sit down with Stephanopoulos.
ABC has seemingly taken a turn to the left during the Trump administration, as late-night star Jimmy Kimmel pivots toward activism and Behar continues to make outlandish claims such as Trump being more hostile than North Korean dictator Kim Jong Un or Russian President Vladimir Putin.
Comey and Stephanopoulos continued their chat Tuesday on ABC News' "Good Morning America," and the former FBI Director is scheduled to follow Daniels and Avenatt with his own appearance on "The View" Wednesday morning.