Steven Spielberg's Shoah Foundation documents Guatemala genocide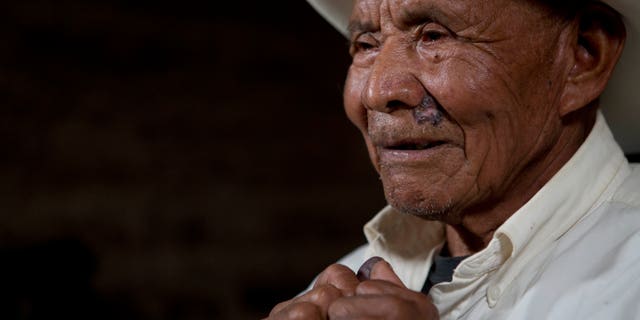 RABINAL, Guatemala (AP) – Juan Chen Chen lit up as he recalled a childhood spent romping in the Guatemalan countryside, playing soccer and spinning tops while his parents harvested maize and squash.
But his voice turned somber and his eyes wandered blankly to focus on a nonexistent horizon as he described the events of March 1980, when the army came to town. Chen managed to hide, but others weren't so lucky.
"I saw when they put a bullet in my father's head," he said. "My father was left lying there, and the dogs began to eat his brains. ... It was the soldiers who were providing security for the dam."
He and his surviving family members fled to the mountains of the Central American nation.
Chen's tale is among hundreds of oral histories being collected by the USC Shoah Foundation, founded by American director Steven Spielberg. When completed, it will be the most comprehensive repository of eyewitness accounts from Guatemala's 1960-1996 civil conflict in which some 245,000 people were killed or disappeared, most of them by soldiers and paramilitary gangs.
It's the Shoah Foundation's first time working in Latin America after gathering 52,000 accounts from the Nazi Holocaust, genocides in Armenia (1915-23) and Rwanda (1994) and the 1937 Nanking Massacre in China.
The foundation based at the University of Southern California has already recorded 100 testimonies from the conflict and plans to gather at least 500 in cooperation with the Forensic Anthropology Foundation of Guatemala. The remaining oral histories will be collected in 2016 with the aim of completing the project the following year.
Fredy Peccerelli, director of the Forensic Anthropology Foundation, said the goal is to tell the stories "that nobody wants to know about, without either political or ideological filters," and paint a retrospective portrait of life before, during and after the war.
Toward that end, workers are fanning out into the countryside to interview people such as Chen, an indigenous Achi man who survived the massacres in Rio Negro, Baja Verapaz department, about 110 miles (175 kilometers) north of Guatemala City.
"We are farmers," Chen told interviewer Yeni de Leon, recalling how he met his arranged bride, Margarita, on their wedding day. He was 17, she 15. "We always lived well. There was no violence until then."
But the army suddenly showed up asking about people who supposedly had stolen equipment from government workers who were building the Chixoy dam. There was an argument and the soldiers killed seven community leaders, touching off years of terror in the tiny town. Activists say the government sought to force residents out of the area to avoid conflicts over the construction and caused thousands of deaths.
Chen said he was forced to join patrols, but still was thrown behind bars and tortured.
"Look at my hands, here I have a scar. Look at my leg, that's where they stuck the knife in," the 58-year-old said, weeping. "They accused us of being guerrillas. ... It wasn't true."
Chen says he now wants justice, noting that some of the people who tortured him live nearby.
But justice for civil-war abuses has been hard to come by in Guatemala. Many military figures accused of ordering or carrying out mass killings still walk free decades later.
Several attempts to prosecute former dictator Efrain Rios Montt and his then-intelligence chief for the killing of 1,771 indigenous Ixil people by security forces under his 1982-83 government have balked. A new genocide prosecution is set to begin in January, but it cannot result in any punishment for Rios Montt because he has been deemed unfit to stand trial for health reasons.
According to a report by Recovery of Historic Memory, at least 422 massacres occurred nationwide during the conflict. Human rights organizations say northern Guatemala and indigenous communities in particular suffered the brunt of the killings.
Fernando Osorio, 70, also survived the Rio Negro massacre and spent two years in the mountains, surviving by eating whatever he could find. Perched on a chair in his dirt-floor adobe home, he recounted in halting Spanish the horrors he witnessed.
"My children were still little," said Osorio. "They grabbed them like cats and smashed them against a pine tree."