Guatemala's president-elect, a self-styled outsider, vows to clean government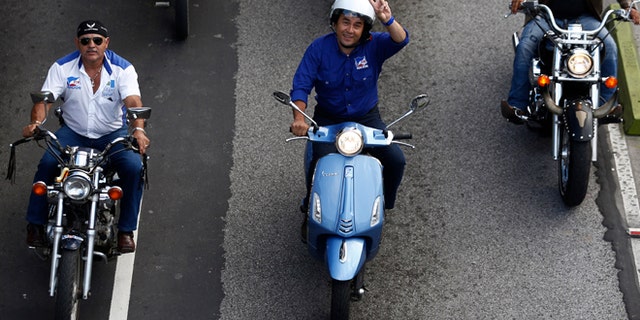 GUATEMALA CITY (AP) — – Jimmy Morales, the TV comic elected Guatemala's next president amid widespread anger over corruption that took down the previous leader, vowed Tuesday to bolster the investigative bodies that blew the lid on the graft scandals.
He said he will turn to those very entities, Guatemalan prosecutors and the U.N. International Commission Against Impunity in Guatemala, to help vet his proposed Cabinet in a bid to ensure an honest government in a country where many have long considered that an oxymoron.
"I already approached (them) and I asked them to help me to look into people ... the people who will be serving the public," Morales said in an interview with The Associated Press.
After he takes office Jan. 14, the political neophyte who ran as a self-styled outsider will come under pressure quickly to show concrete progress on campaign promises to battle corruption and govern with transparency. He said he plans to uphold the law and lead by example.
"If I enter government as middle class and get rich overnight, that's not logical," Morales said. "But if I continue to be the Jimmy Morales I have been, the people will see that and there is the example."
Former President Otto Perez Molina, who resigned just days before the first round of presidential voting in September, had been seen by analysts as loath to renew the mandate of the U.N. commission, which was set up to investigate criminal networks in Guatemala.
But as a customs graft scandal snowballed and took down Perez Molina's then-vice president, Roxana Baldetti, he apparently decided it was politically impossible to do otherwise. Today both Perez Molina and Baldetti are in jail awaiting prosecution.
Morales said one of his first acts as president will be to seek to extend the commission's mandate through 2021.
"When they ask me, I will do so with great pleasure," he said.
Morales' first-place finish in the opening round of voting and then a landslide runoff victory Oct. 25 over former first lady Sandra Torres has been widely interpreted as a "punishment vote," with outraged Guatemalans rejecting candidates seen as tied to the establishment.
But Morales said voters were attracted to him not just because he's never held office before.
"If it's true, the 'punishment vote' that you're talking about, why didn't that go to someone else?" Morales said. "So then, what was done well? An example was held up that there was leadership, administrative capability and transparency. That there was consistency between the discourse and the behavior."
Morales is already facing questions related to his team. His lawyer, Elmer Belteton Morales, and his transition adviser, Jose Ramon Lam, both answered directly to Baldetti in the previous government. Morales has said he will give members of his team the chance to respond to such questions.
As for criticism during the campaign that he provided little in the way of concrete proposals, Morales insisted that "I do have a plan." He said it's based on a national development agenda laid out under Perez Molina's government and U.N. Millennial Development Goals.
It focuses on improving health care and bolstering education by putting the Internet and the latest gadgets in classrooms.
"Any citizen of the world who does not have access to a computer, Internet or a smartphone is cut off from the world," Morales said. "If we had that, we could make a quantum leap."
The president-elect has faced criticism from human rights groups over being the candidate of the National Convergence Front. Some National Convergence founders are retired military officers implicated in rights abuses during Guatemala's 1960-96 civil war, when security forces and paramilitary groups were blamed for nearly all the 245,000 deaths and disappearances.
Seemingly annoyed to be asked about the issue, Morales simply suggested that an AP journalist investigate the matter.
Morales became noticeably thinner during the election and acknowledged losing weight after learning the results.
He cracked a joke about the tough road ahead governing a nation troubled by endemic corruption, a struggling economy, violent street gangs and one of the world's highest homicide rates, even as he promised that he is up to the task:
"Someone told me, 'I wouldn't want to be in your shoes.' And I told him, 'To be honest, me neither.'"
Like us on Facebook
Follow us on Twitter & Instagram