Sports Illustrated Swimsuit reveals 'Golden Barbie' Jasmine Sanders as new rookie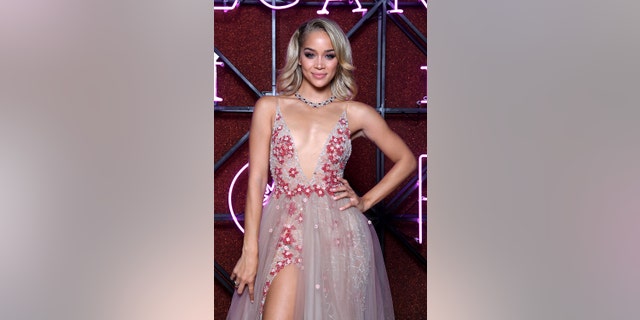 Jasmine Sanders, best known as Golden Barbie by fans, is the newest rookie to sizzle for Sports Illustrated Swimsuit.
The announcement comes just weeks after the coveted magazine revealed former New England Patriots cheerleader Camille Kostek was their first model and rookie for the 2019 issue.
The 27-year-old pinup, who has been modeling for 14 years, has previously landed numerous covers for InStyle, Harper's Bazaar and LOVE Magazine, among others. She recently appeared on the cover of Elle Turkey's November 2018 issue. In addition, Sanders has appeared on the pages of American Vogue and Vogue Italia, and she's walked the runway for Moschino, Ralph Lauren and Jeremy Scott, just to name a few.
Sanders is also recognized by fans for appearing on Kim Kardashian West's Instagram page while on a vacation to Mexico in 2016 with the 38-year-old reality TV star before jetting off to New York Fashion Week.
Ocean Drive previously reported Sanders was born in Germany but her father, enlisted in the Army, was from South Carolina. When she was 1-year-old, the family moved back to Columbia, S.C. And while Sanders dreamed of appearing in magazines, she said her childhood was far from glamorous.
"I was super tall at one point and very, very skinny," she recalled. "I hated my legs because everybody would talk about how bony my knees were."
Sanders admitted she was also bullied in school.
"Living in the South, people look at you differently because you are a mixed kid," she shared. "I would get bullied over who my friend were — if I had too many white friends or too many black friends."
The magazine revealed that at age 13, Sanders was scouted by a photographer. And with her mother's permission, she went on to pursue a blossoming career.
In 2017, Sanders told Glamour Magazine UK that while she credited Instagram for helping her to connect fans, she also refuses to tolerate negativity on social media.
"I delete comments," she explained. "I don't like having negative comments on there because I've dealt with bullying growing up. I know how to take it now but I used to be that little girl that cried about it. My main thing is watching the followers and the friends that follow me really wanting to take care of me. I feel bad when one comment is something bad and one of my followers is trying to defend me and it becomes like a row between the two. I'd rather delete it all and just stop the negativity. If there's a way I can kill it with kindness easy and simple but it's very rare that I would say something."
As for the future, Sanders is already thinking about making her mark in Hollywood.
"I am trying to go on more castings and auditions and stuff with acting and opening up those doors a bit more," she told the magazine. "… My goals now are really just trying to show people who I really am. I've worked really hard and tried to be the girl that everyone needed me to be and I think it's fun now that I can be myself and clients love it. I love that people want to book me because they think I am going to rock their stuff and they let me do my thing."