Source: Fallon staff to get pay bump as mood at 'Tonight Show' sours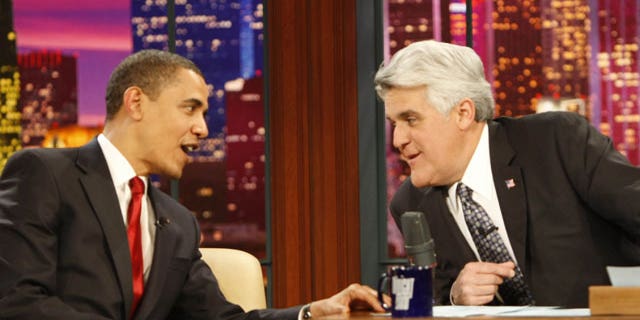 LOS ANGELES – Earlier this month, it was official: Jay Leno would be bumped out of the 'Tonight Show' once his current contract expires in September 2014, to be replaced by later-in-the-night NBC talk show host Jimmy Fallon.
Now a 'Tonight Show' insider tells FOX411's Pop Tarts column that much of Leno's staff is stressing about what they'll do once the changeover is made.
"It all depends on each person's individual contract," the source said. "But feelers are already going out everywhere."
Rumors remain persistent that Leno is in talks with FOX about taking his talents there, and we're told his intention is to "revamp" his entire show, meaning a whole, fresh new team would follow.
But a FOX insider insists that there is "no truth" to the Leno murmurs, and has "no idea" how or why they continue.
Whether or not Leno even stays on the air until next September is also in question, with the Hollywood Reporter noting that some execs want to launch Fallon's version in February to capitalize on NBC's ratings-boosting coverage of the Winter Olympics.
"There is even chatter that Jay might not come back after hiatus," continued our insider. "And they are working feverishly to finish Fallon's nice, new set in New York."
Leno has continually infuriated his NBC executives, calling them "snakes" and mocking the network's ratings decline on air. Yet we're told long before the barbs began that many of his team had an inkling things were falling apart behind the scenes. Apparently "the mood hasn't been upbeat there in a long while," and Leno has simply tended to be somewhat "difficult" to connect with.
Unsurprisingly, everything's the opposite over at Fallon's show, as the network has chosen not to move the staff from New York to L.A. as they did for Conan O'Brien's disastrous takeover of the 'Tonight Show' in 2011.
Not only will Fallon's people not need to uproot, but we're told most will also receive a healthy salary bump.
"Everyone is pretty excited," said a source. "The plan is to make it bigger and better for everyone."
Regardless of the behind-the-scenes sturm und drang, both shows are managing an impressive stronghold over their competition. During last week, both "The Tonight Show" and "Late Night with Jimmy Fallon" topped their ABC and CBS time-period competition for the week, with Leno having his best week in the coveted 18-49 viewers category and in total viewers in nine weeks, while Fallon hit a 13 week high in the 18-49 sector.
For the last 24 weeks, Leno has attracted more eyeballs than CBS's "Late Show with David Letterman" and he is also beating Jimmy Kimmel since he made his way to the 11.35pm time slot.
"Jay isn't ready to retire just yet," said the source.
Reps for Leno and FOX declined to comment and NBC did not respond to a request for comment.