'Slumdog' Celebrations Fill Mumbai's Crowded Slums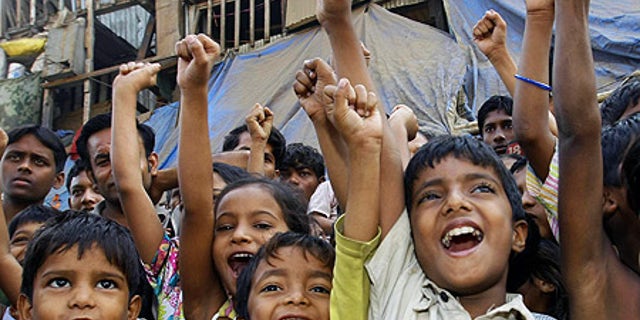 MUMBAI, India – Children broke into Bollywood dance numbers and crowds cheered in the narrow lanes of a teeming Mumbai slum on Monday as they gathered to root for the hometown heroes who nabbed the Oscars' highest honor.
Two of the child actors in "Slumdog Millionaire" were plucked from a desperately poor neighborhood on the outskirts of Mumbai to star in the rags-to-riches tale that stormed the Academy Awards.
RELATED: 'Slumdog' Sweeps Oscars with Best Picture Win.
The actors, Azharuddin Mohammed Ismail, 10, and Rubina Ali, 9, were flown to Los Angeles for the ceremony, leaving their friends back home to gawk, beam, shout and dance in celebration.
"My eyes couldn't believe that I was seeing Rubina in America," said Saba Qureshi, Rubina's best friend. Saba and her sisters woke before dawn to watch every minute of the Oscars, squealing with joy every time Rubina came on screen. They had one of the handful of TV sets in the neighborhood.
VIDEO: FOXNews.com interviews Rourke, Winslet, Cruz and more on the Oscar Red Carpet.
"Slumdog" won eight Oscars, including best picture, best director, and two awards for best music — each time inspiring raucous renditions of the dance routines for which India's movie industry is known.
"It seems like happiness is falling from the sky," said Sohail Qureshi, Saba's father and Rubina's neighbor.
The Hollywood glitz, the limousines and the red carpets of the Oscars could not be farther away from the Bandra slum, nestled between a major road and filthy train tracks.
PHOTOS: Celebs Do Their Bling Thing on Red Carpet.
Azhar lives in a lean-to made of plastic tarpaulins and moldy blankets. Rubina shares a tin-roofed, cotton-candy colored shack with her parents and her six brothers and sisters. Stray dogs nap on mountains of trash.
Hordes of journalists descended on the neighborhood Monday. TV tripods straddled the thin stream of sewage outside Rubina's home while rows of satellite trucks idled outside a normally sleepy tea stall.
"Normally, no one talks to us and no one comes here, but now everyone is here," Mohammed Ismail, Azhar's father, said before a bouquet of flashing bulbs.
About 65 million Indians — roughly a quarter of the urban population — live in slums, according to government surveys. Health care is often nonexistent, child labor is rampant and inescapable poverty forms the backdrop of everyday life.
Prime Minister Manmohan Singh congratulated the "Slumdog" team Monday, saying, "The winners have done India proud."
PHOTOS: The biggest fashion bloopers on the Oscar Red Carpet.
While everyone in the area was proud of their local stars, some objected to the film — and its title — that made them famous.
"I'm poor, but no one can call me a dog," said Fakrunissa Sheikh, 40, who lives in a lean-to next to Azhar's. "I work very hard."
Rubina's friends wouldn't let talk like that cloud the big day.
"She looked like an angel," Saba said after the TV showed Rubina smiling in her white dress. "When she comes back, we will have the biggest party."