Slipknot Bassist Died From Morphine Overdose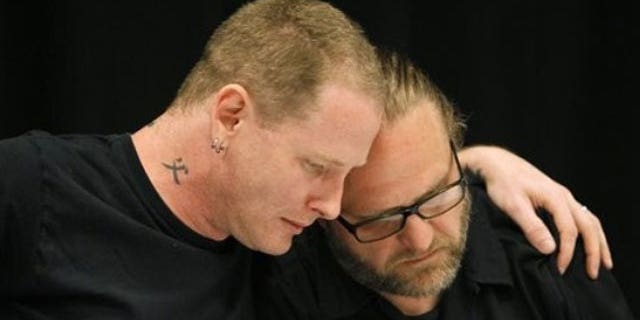 NEWYou can now listen to Fox News articles!
DES MOINES, Iowa -- Autopsy results show the bassist for heavy metal band Slipknot died of an accidental overdose of morphine and fentanyl, a synthetic morphine substitute, police said Monday.
Paul Gray was found dead in a suburban Des Moines hotel room on May 25. A hotel worker told a 911 dispatcher that a hypodermic needle was found near Gray's body and that pills also were found in the room.
The autopsy shows he died of an overdose, Urbandale police said in a news release. They also said the autospy revealed signs of significant heart disease.
No evidence has been found showing Gray had a prescription for the drugs, police spokesman Sgt. Dave Disney said. Police are trying to find out how Gray got them.
"There is no evidence that a doctor prescribed either one of those substances," Disney said.
Disney said charges are possible but that it is too early to discuss specifically what those charges could be.
A person answering the phone at Slipknot's record company, New York-based Roadrunner Records, declined to comment and said that there would be no official comment from the company or band until one is posted on the band's website. No such statement was posted on Slipknot's website as of late Monday afternoon.
Phone listings for his wife, Brenna Gray, and Corey Taylor, a founding member of the band, were not immediately found.
Gray was a co-founder of the Des Moines-based band known for its groteque masks, thrashing sounds and aggressive, dark lyrics.
Slipknot emerged in the mid-1990s and it's 1999 debut album sold about 2 million copies. The ban won a Grammy in 2006 for best metal performance for the song "Before I Forget."