'Sheer dedication' helped Mexican Bond girl Stephanie Sigman escape cartel-ravaged hometown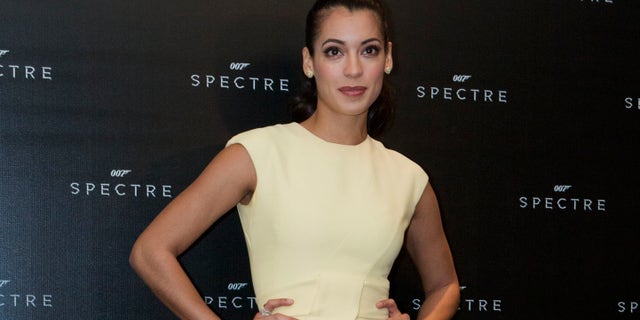 The Mexican actress tapped to play a Bond girl in the upcoming film "Spectre" spent her childhood in one her country's deadliest drug cartel capitals, according to her brother.
Stephanie Sigman – who will play the mysterious Estrella in the next 007 film – was born in the state of Sonora, Mexico, a stronghold of the feared Sinaloa cartel.
Her brother Kenneth told MailOnline that his sister was the "perfect person to play a bada**" in the film after surviving the danger and violence they faced at home.
"Growing up in Ciudad Obregon, you have to have your wits about you," he said. "It's a good thing we both got out there."
The 27-year-old actress, the eldest child of Lee Sigman, a scout for the New York Yankees, left Ciudad Obrego at the age of 16 to begin a modelling career in Mexico City. Two years later, she was accepted into the CEFAT acting school in the Mexican capital and has not looked back.
Her brother Kenneth, who followed in his father's footsteps and plays professional baseball for the Monterrey Sultans, told the MailOnline that he never doubted his sister would leave their crime-ravaged hometown.
"My sister got out of that town by sheer dedication. Who knows what would have happened if she had stayed," he said. "All the best-looking girls I knew when I was growing up are dating narcos."
He continued, "We're all really proud of her, she's had a lot of success... She's got a lot of drive and that's got everything to do with her background."
Interestingly, Sigman's roles before "Spectre" tended to focus on drug cartel issues. In her breakout role in 2011's "Miss Bala" ("Miss Bullet), she plays a beauty queen from Tijuana who gets caught in a deadly turf war between corrupt cops and the drug lords who control her.
"Miss Bala" was nominated for an Oscar for best foreign film.
Sony and MGM studios announced Sigman joined the cast as the third Bond girl for "Spectre" early last month.
Soon after she tweeted, "Dreams do come true."
The film has been plagued by reports that it would be modified to portray Mexico in a more favorable light in exchange for $14 million worth of incentives offered by the Mexican government. One of the country's requests included that a "known Mexican actress" be cast to play one of Daniel Craig's Bond girls as well as a stipulation that the film's villain Sciarra "cannot be Mexican."
Sigman, who worked primarily in Mexican television before breaking into films, told Mexican press that she hopes the Bond role will open doors to Hollywood.
"I think there's going to be a big opening, I expect this project will open a higher, different door to another path," she said.
Like us on Facebook
Follow us on Twitter & Instagram