Sexualization of School-Aged Girls Harms Women of All Ages, Expert Says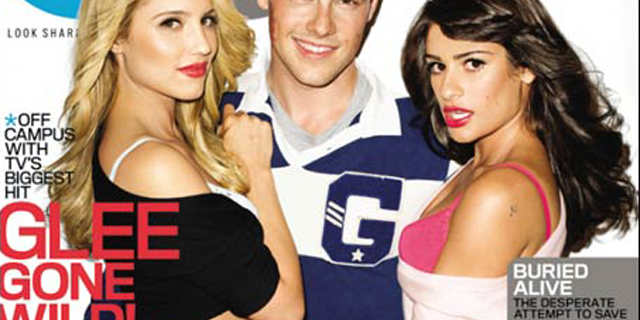 What is it with photo shoots about sexy schoolgirls?
"Glee" stars Dianna Agron and Lea Michele got down and dirty for a GQ magazine spread released last week, set in high school, sucking lollipops, with their legs wide open.
Earlier this year supermodel Miranda Kerr posed topless in school girl clothes in French fashion magazine "Numero."
In 2001, "Lolita" star Dominque Swain posed naked in a classroom in a campaign for animal rights activists PETA.
And in 1999, Britney Spears burst onto the scene donning pig tails and a sexy school uniform in the video for "(Hit Me) Baby One More Time," and appeared in a bra and panties on the cover of Rolling Stone.
Experts tell Pop Tarts that these instances of young women posing suggestively as school girls impact all women by promoting the ideal that the younger the woman, the more appealing she is.
"Although the actresses [in the 'Glee' shoot] are adults, they are dressed as schoolgirls. This promotes and drives the male obsession and desire for younger and younger women," explained relationship expert Patrick Wanis, PhD. "The GQ 'Glee' photo shoot also sends the message to women that if you want to be attractive and appealing to men, then you need to be really young - a teenager - and sexual."
But that's not all. According to Gavin McKiernan, the Parents Television Council's National Grassroots Director, another problem with the racy "Glee" shoot is that it is blatantly sexist.
"We have seen this over and over again that youth stars are told they need to become sexy to make the step from young actress to adult leading lady, yet young male actors rarely need to jump through these same hoops," McKiernan told Tarts.
In the photo spread, Monteith is fully clothed while his female counterparts are draped over him in next to no clothes, sporting kitschy, clichéd makeup.
Some, however, don't believe the shoot was out of line.
"GQ magazine is a magazine created very specifically for men, ranging in age from 24-49 years old. The cover shot and accompanying photo spread shows them (the 'Glee' stars) taking on characters for a photo story. Similar to plot lines created for movies and TV shows, photographers typically tell fictional stories in editorial spreads such as the one in discussion," explained Joslyn Davis, media expert and host of Clevver TV. "None of these actors are anywhere near school-age, and capable of making their own life and career decisions."
Regardless of the subjects' culpability, do the photographers bear any responsibility for the content of their shoots? After all, Miley Cyrus didn't exactly snap the controversial pictures of herself topless with smudged eyeliner for "Vanity Fair" when she was just 15, and neither did Britney Spears, who in 1999 posed in a bra and panties in a little girl's bedroom for Rolling Stone.
"Hollywood photographers have long oversexed their young, as with Britney's infamous Rolling Stone shot by Dave LaChapelle, Miley's Vanity Fair Annie Leibovitz shoot, and now the GQ 'Glee' Terry Richardson shoot," Associated Press pop culture expert Natalie Rotman told Pop Tarts. "Young celebrities know their craft ... but the fashion world is new to them. So they trust and listen to photographers, when they should be listening to themselves."
But it is not just magazines, music and television that are sexing up preteen girls. In 2008, manufacturers Heelarious began marketing high heels for babies, and earlier this year British retailer Asda was forced to remove padded bras for pre-teens following public outcry. A couple of years ago Disney came under harsh criticism for selling "High School Musical" underwear that had the words "Dive In" on them, and in 2002 Abercrombie & Fitch sparked outrage by selling thong underwear to young girls.
And with Halloween approaching, the generic "sexy school girl" costume is bound to be as widely worn as ever. McKiernan said its just another sad example of modern day society.
"It's disturbing that it (the school girl get-up) has become the norm on Halloween," he said. "If you are female and want to get dressed up and join the fun, you are expected to be wearing as little clothes as possible."
- Deidre Behar contributed to this report.