Seventeen Magazine slammed for article promoting online dating to young readers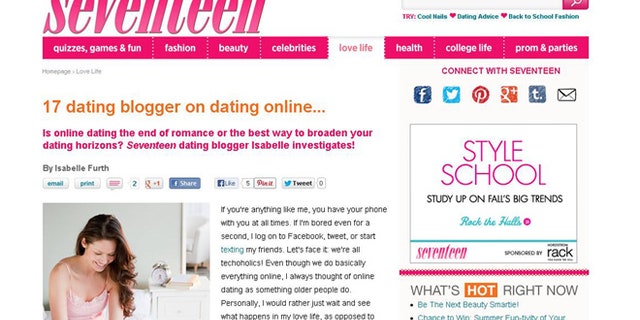 LOS ANGELES – Anthony Weiner isn't the only one in hot water about online relationships.
Seventeen Magazine, which targets females ages 12 to19, published an article Thursday at the top of its website titled: "17 dating blogger: would you do online dating?"
The article gave a positive spin to the digital pursuit of a suitable mate.
"Let's face it: we're all techoholics! Even though we do basically everything online, I always thought of online dating as something older people do," wrote college-aged blogger, Isabelle Furth. "I was talking to a new friend and she was telling me all about her boyfriend. I admit it, I was a little jealous. He sounded so great and she was so happy in her relationship. When I asked her how they met, she told me she had signed up for Match.com and had met him online right away. Now six months later, they're engaged!"
"Is finding love online the way to go, or is it best to be left to chance?" the article asks its readers.
Some critics were shocked that online dating was being promoted to such a young demographic, especially because the potential dangers of meeting mystery men or women online, and the fact that Match.com states users must be "at least eighteen (18) years of age to register as a member or use the website," were not even mentioned.
"They should indicate the dangers of online dating due to their young readership. Cyber-stalkers are a serious danger to children and teens and anytime you encourage online communities for kids you have to be educated on cyber stalkers," said Nicole Clark, teen educator and director of the documentary "Cover Girl Culture." "Seventeen magazine is giving cyber-stalkers a gift wrapped dream present: tweens and teens who are seeking love online from someone online."
Could an article like this cause undue problems for curious minors looking for love in all the wrong places?
"Although many teens meet online through social media platforms, it is a bit ill advised for Seventeen Magazine to encourage kids to meet and hook up with strangers via the Internet," said pop culture expert Jenn Hoffman. "Most teens simply don't have the decision making skills to avoid potentially dangerous scenarios in online dating. So Seventeen is targeting the right audience, but with potentially harmful results."
Furthermore, some say the notion of minors even feeling the need to turn to the click of a keyboard for a relationship is concerning.
"Kids should be able to meet other kids at school, in their community and through sports. They do not need to meet strangers in others states whose identification cannot be verified," Clark said.
But even though adult sites such as Match.com may hardly the place for teens, relationship therapist Sheri Meyers said online relationships do have their pros, even for minors.
"Starting conversations and chatting with a cute new guy or girl online has a few benefits such as it can help shy teens and kids who feel like they are outsiders meet new people and develop new social skill sets. It can help teens expand the dating pool from just school, social and sports mates to a new group of people that have related interests in other areas," she said. "Also, if seen as a nerd at school, it feels like you are starting fresh and can be anyone you want to be. It's allows the teen to expand their own limiting self view."
Reps for the Seventeen Magazine and Match.com did not respond to a request for comment.