'Secrets of the FBI' exposes US counter terrorism efforts in the nation's Capitol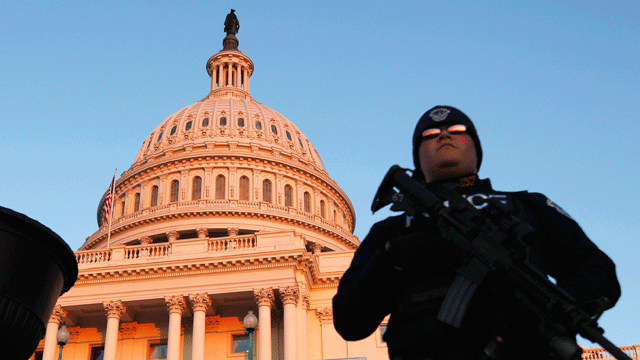 The State of the Union Address is over, and President Obama isn't the only one breathing a sigh of relief. The annual address is the biggest target for terrorism in the entire United States, making it a massive challenge for the Federal Bureau of Investigation.
Discovery Channel's special "Secrets of the FBI" takes viewers behind the scenes of the long and detailed efforts mounted by the FBI to keep the nation's Capitol safe during the address, and every day.
"The majority of people don't know what we're really doing, and I think the public, and our troops, can take comfort in learning how the FBI is out there keeping Americans safe," Christopher Combs, Special Agent in Charge of Counterterrorism, told FOX411's Pop Tarts column. "People will be surprised to know the amount of resources dedicated to these events, and every single day, to counter terrorism. There's a giant task force, we prepare for months, and meet and go through every possible scenario of what could happen."
On an average day in Washington D.C. alone, the FBI is called to investigate at least five suspicious packages, the majority of which are viewed as potential anthrax threats. Every single threat, even those of dubious credibility, is taken seriously. Combs stressed that anti-terrorism functions were also firmly in-place prior to the 9/11 attacks, and the FBI continues to work above and beyond – particularly on a more international scale – to keep our nation free from any more attacks.
"Secrets of the FBI" also highlights these extensive underground operations necessary to protect the people and the political figures of D.C., and gives us a glimpse into just how devoted these special agents are to their occupation.
"The most challenging aspect is the 24-hour nature of it. We work very long hours, and go home but we are always on-call and must be prepared to respond to a threat any time," Combs, who has been with the FBI for sixteen years, added. "It means you miss birthday parties and other plans, but the most important thing is the mission. It's not a job, it's a calling."
"Secrets Of The FBI" premieres on the Discovery Channel Sunday, January 29 at 8 PM ET.