'Secret Daughter' of Clark Gable and Loretta Young, Judy Lewis, Dies at 76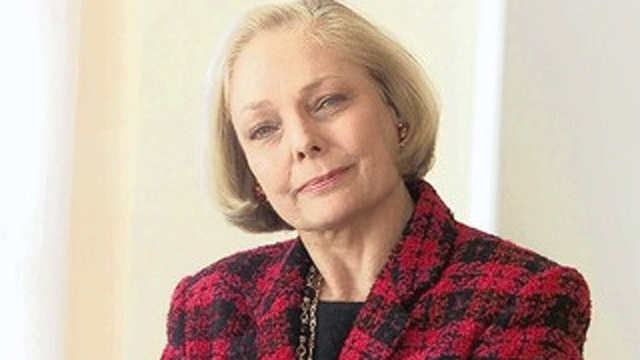 NORRISTOWN, Pa. – A memorial will be held Saturday for Judy Lewis, the woman thought to be the daughter of Clark Gable and Loretta Young, who died at the age of 76.
Lewis passed away on Nov. 25 at a retirement community in Gladwyne, Pa., eight miles south of Montgomery County seat Norristown, after a battle with cancer, The Philadelphia Inquirer reported Wednesday.
According to the actress, writer and psychotherapist, she spent the first 19 months of her life hidden away, sometimes in orphanages, because of Young's reluctance to acknowledge her own child.
Lewis revealed in her 1994 memoir "Uncommon Knowledge" that she was conceived in 1935 when Young, 22, and the married Gable, 34, were shooting "The Call of the Wild."
Young, who was unmarried at the time, concealed her pregnancy and subsequently the birth. Nineteen months after Lewis was born, Young brought her home and told the public that she had adopted a child.
In 1940, Young married Thomas Lewis, and Judy Lewis took his surname -- but she was never formally adopted by her stepfather.
"It was very difficult for me as a little girl not to be accepted ... by my mother, who to this day will not publicly acknowledge that I am her biological child," Lewis said in 1994.
According to an authorized biography published after Young's death in 2000, she confirmed that Lewis was her daughter with Gable. But neither Youn gnor Gable ever said publicly Lewis was their biological daughter.
Lewis met Gable, who died in 1960, once when she was a teenager but she did not learn he was her father for several years after that meeting.
According to the Los Angeles Times, her parenthood was an open secret in Hollywood but Lewis' classmates and friends had been instructed not to tell her.
Two weeks before her wedding to Joseph Tinney, Lewis developed cold feet and wanted to pull out because she did not know who she was.
Lewis said her fiance told her, "Judy, don't worry about it. I know everything about you. You're Clark Gable's daughter," leaving her gobsmacked. The marriage to Tinney ended in 1972 and he died in 1999, the Inquirer reported.
Following a confrontation, Young confirmed that Gable was her father, but Lewis said she begged her not to tell anyone.
"I had to write this book," Lewis told the Times when her biography was released. "I don't think anyone knows what it's like not to be acknowledged by your own parents."
After graduating high school in Los Angeles, Lewis made her way to New York to pursue an acting career, the Inquirer said. She appeared on Broadway as well as in daytime soaps such "General Hospital."
From the eighties, she worked as a counselor after studying for degrees in clinical psychology.
Lewis -- who lived in Palm Springs, Calif., Gladwyne, Pa., and Longport, N.J., throughout the years -- is survived by her partner Steve Rowland, her daughter, son-in-law, two grandsons, and three half-brothers, including John Clark Gable.
A service will be held for Lewis at Gladwyne's St. John Vianney Church at 11:30am local time Saturday.