Sean Murray on what a post-Michael Weatherly 'NCIS' looks like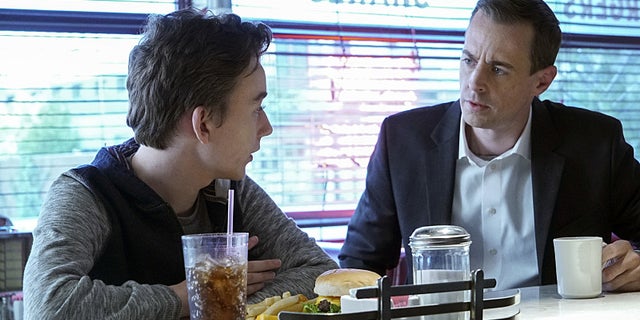 "NCIS" returned last Tuesday night introducing not one, but two of the three new cast members -- Special Agent Nicholas "Nick" Torres (Wilmer Valderrama) and NCIS Special Agent Alexandra "Alex" Quinn (Jennifer Esposito) -- replacing Special Agent Antony DiNozzo (Michael Weatherly), and promoting Special Agent Timothy McGee (Sean Murray) to the position of senior field agent.
"The first week back was interesting because you don't quite know what to expect when you come back," Murray told FOX411. "You know how it is -- they don't tell the actors much until you get right down to it. But it was actually really cool [because of the changes] no one could check out, you had to check in. It kept you on your feet even more so. Everyone shifted a little bit in that change."
Casting changes aren't new to "NCIS;" Sasha Alexander left her role as Caitlin Todd, Cote de Pablo exited her role as Ziva David, and Lauren Holly's Director Jenny Shepard character was killed off. Murray says they are taking the new cast members in stride.
"I'm starting to find the fun moments," he said. "I had a scene last week that was pretty much the characters together for the first time, getting to know each other. And that to me is where it can make or break it…we're having a lot of fun, and it's gelling right, it feels good. And with Wilmer [Valderrama], he's been fantastic."
Esposito's character Alex shadowed the team in the season 14 premiere, so she had scenes with everyone, including many with Gibbs (Mark Harmon) who had great chemistry with her character. Could there be a romance brewing there? After all, Gibbs has been married four times -- widowed once and divorced three times -- and he has had several girlfriends over the seasons.
But Murray pooh-poohs that, saying, "Alex knows Gibbs from previously when she was an instructor. As far as I know, there's no relationship."
As for the third new member of the team, we met MI6 Officer Clayton Reeves (Duane Henry) at the end of season 13. He will rejoin the team in episode five and will be on loan from MI-6, much as Ziva originally was a liaison from Mossad who worked with NCIS.
"We love Duane, so it's so cool to know that he's coming back and we're going to see him," Murray said.
With all these new team members, desk space is at a premium in the NCIS office -- which is a big deal because the agents feel possessiveness toward their desks. It was an issue the first time someone tried to sit at Ziva's desk after she first left, and DiNozzo had his desk a lot longer. So far, McGee has taken possession of it, even though it is unclear if he will remain there because he doesn't feel comfortable.
"There's a little bit of a new setup," Murray reveals. "It's a little bit different circumstances, I think. But there's some shuffling for sure. The squad room will look a little different, but I think it will be in a good way."
"NCIS" airs Tuesday nights on CBS.