'Scooby-Doo' scriptwriter James Gunn: Film was originally R-rated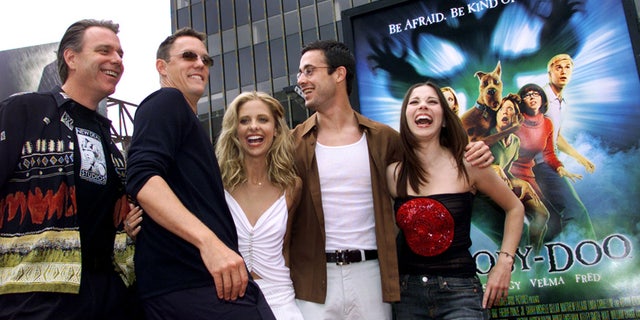 NEWYou can now listen to Fox News articles!
Screenwriter James Gunn confirmed on the 15th anniversary of the 2002 premiere of "Scooby-Doo" that the film was originally an R-rated comedy.
"I had loved the character of Scooby-Doo since I was a kid and was excited at the prospect of making a live action film with 2002's cutting CGI technology," wrote the 50-year-old in a lengthy Facebook post. "Yes, it was not exactly what we planned going out — I had written an edgier film geared towards older kids and adults, and the studio ended pushing it into a clean cut children's film."
"Scooby-Doo" starred Freddie Prinze Jr., Sarah Michelle Gellar, Linda Cardellini, and Matthew Lillard as Shaggy. Neil Fanning did the voice of the beloved canine.
Gunn added the film would have looked completely different if he had it his way.
"And yes, the rumors are true — the first cut was rated R by the MPAA, and the female stars' cleavage was CGI'd away so as not to offend," he wrote. "But, you know, such is life. I had a lot of fun making this movie, regardless of all that. And I was able to eat, buy a car, and a house because of it."
While "Scooby-Doo" ended up becoming a more family-friendly film than what Gunn originally envisioned for his story, he insisted that the cast enjoyed every moment of making the movie, even when cameras stopped rolling.
"The cast, a few members of the crew, and I, had massive games of Nerf gun tag throughout the house trying to kill each other fours," he said. "Truly some of the most fun [I've] ever had."
However, Gunn did face another setback once "Scooby-Doo" was released.
"So what do I remember from 15 years ago? I remember being bummed out that the reviews were pretty terrible," he recalled. "These days I might glance at the occasional review (admittedly, mostly only good ones), but back then I read EVERY. SINGLE. ONE. I also read everything written about the movie online, by, like, anybody, including bulletin board folks. It was kind of a film-self-involvement I've learned to avoid since, but needless to say it was not an exceptionally good day."
Still, Gunn didn't just receive bad news — he described one moment that was "one of the best days of my life."
"At about 5:30 Saturday morning opening weekend Lorenzo DiBonaventura — the head of production at Warners, and one of the people who gave me my start — called me and woke me up at home to tell me we made 18 million the Friday before. Now that doesn't seem to be all that much today — 'Guardians [of the Galaxy]' will make around that on a Thursday night alone — but back then it was enough to make the movie the biggest June opening ever. Until that moment, I thought if the movie came out and didn't do well I'd be able to continue getting writing jobs, and my life was going to be the same. But in that one single moment I knew everything had changed."
Gunn would go on to write screenplays for the hit superhero film series "Guardians of the Galaxy."