Samantha Bee's late night show 'Full Frontal' won't have guests, sketches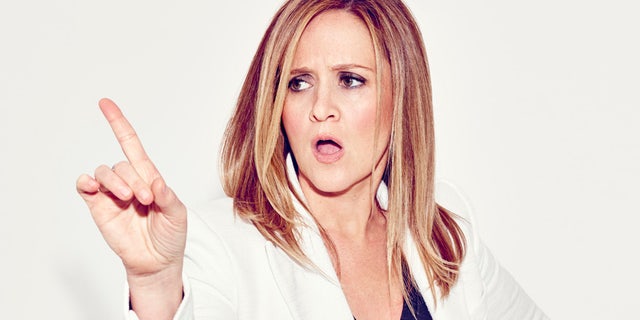 PASADENA, Caif. – Samantha Bee goes where few women have gone before when she joins the boys' club that is late-night television with the premiere of "Full Frontal with Samantha Bee."
Monday night's launch on TBS will mark Bee as the only woman in late-night since Chelsea Handler shuttered her E! show in August 2014. But Bee says her show will be taking a different tactic than "Chelsea Lately." Her "Full Frontal" approach to comedy won't feature sketches or celebrity interviews, and will instead focus on satire.
"We really want to explore stories that we don't think other people are," Bee told FOX411. "We're looking at all the stories that make us feel like, 'Oh, my God, I can't believe this is real.' We aim to break those apart, looking through the only lens that we know how to look through, which is the lens of comedy. Not every story lends itself to comedy, and yet, many stories have comedy to them that is unexpected, and we plan to mine those unexpected areas."
But not to worry. Bee also will be tackling the usual targets, just with her own twist as she did during her 12-year stint on "The Daily Show." She also plans to use "Full Frontal" to expand her style and grow in different directions, with a lot of field pieces.
"I went to Jordan to talk to Syrian refugees, which is not normally a real territory for comedy, I wouldn't think," she says, by way of example. "It's obviously pretty heavy. We went there with an intention to shine a light, but we also went with the intention to let the refugees themselves shine in a really interesting way. It ended up really being unexpectedly comedic."
As the only woman in late-night, Bee also wants to give more airtime to women's issues, but, as she admits, she needs to find a way to make it work for the audience.
"It's difficult to talk about TRAP [Targeted Regulation of Abortion Providers] laws in a nightly comedy show," she says. "It's not really all that funny, but I think that we can make it work. We had a test show a couple of weeks ago, and we were exploring a story that's really heavy. I think we put enough comedy into it, and, I think, we put enough of our lens on it that it worked, but I don't think it's a story that the other shows would touch if their lives depended on it."
Bee isn't making the transition from "The Daily Show" to "Full Frontal" alone. Her husband Jason Jones will be joining her behind-the-scenes as an executive producer on "Full Frontal," and he will also go in front of the camera on "The Detour," a half-hour comedy that they created and executive produced, also for TBS, inspired by their marriage.
"A lot is fictional," Bee says of the road-trip comedy. "The thing that's closest to our actual life in "The Detour" is that we really modeled the couple on our own relationship. We did want to make sure that the couple reflected our approach to our own marriage, so they bicker and they do all those normal couple things, but at the end of the day, they do love each other."
The challenge of writing a half-hour comedy was a new experience for Bee, who has no plans to act on it, rather Natalie Zea was hired to play the wife opposite Jones. What Bee did discover was how difficult it was for her to be trapped in a writing room for ten hours a day trying to think of ideas for a fictional family.
Despite the toughness of the task, it did reinforce her knowledge of how good she and Jones have become at juggling work and their family, which consists of three kids.
"We are really good at leaving work at work to just drop everything and parent when we come home," Bee says. "We've always known each other through work, so we've always had an ability to put it aside when we were at home. I can't explain it. We just maybe compartmentalize our brains in a certain way and we both share that ability. Also, maybe because our kids are little and they would never stand for that kind of bullshit. There is no way our kids would let us focus on work in their presence."
"Full Frontal with Samantha Bee" premieres Feb. 8 on TBS. "The Detour" premieres April 11.