Sad Spears: Britney 'Beyond Caring' About Being Under Conservatorship?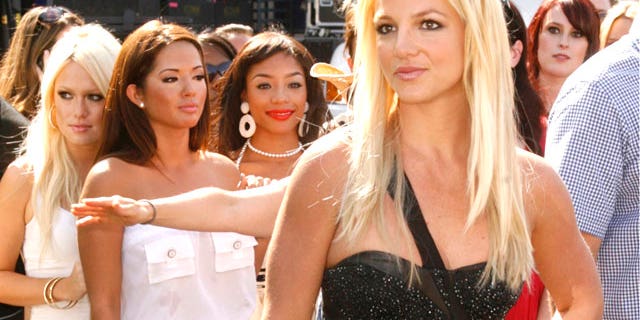 NEWYou can now listen to Fox News articles!
Britney Spears hasn't shaved her head in over three years, and it has been a long time since she partied without panties, dated a paparazzi or was admitted to a hospital.
But is the pop princess really getting much better?
In February 2008, Jamie Spears was granted temporary conservatorship over his daughter, and in October of that year it was made permanent. Last year there were rumblings that the conservatorship would end in November.
It didn't.
The speculation then was that it was going to be over by June 2010, but last week L.A Superior Court commissioner Reva Goetz, who has been presiding over the case since day one, once again declined to end the conservatorship during the scheduled status hearing. So by law, Spears is still under her father's thumb when it comes to making any personal or professional decisions.
Which means a 28-year-old woman who tours the world, has the most Twitter followers of any celebrity, and continues to sing hit songs still can't own a credit card.
"Britney is just beyond caring [about being under conservatorship now], she hasn't progressed that much and is far from being able to accept the responsibilities of being an adult. She's in a different world, might as well be on Mars," a source close to the Spears' camp told Pop Tarts. "She has people around her that do everything for her, decisions for every little thing are made by her 'people.' She's totally lost touch with reality."
We're told the only pals the songstress has are her backup dancers, although even there she really doesn't hang out with them, and apparently goes straight home or to the hotel after concerts.
"Britney can't ... interact with other people. I know people that have met her several times, but she still doesn't remember who they are and acts like they've never met," said our insider. "Her family is also against any sort of 'meet and greet' after her shows [and] she isn't really allowed to interact with anyone in the public."
And while Brit isn't acting anywhere near as bizarrely as she was this time three years ago, her public appearances still often has us scratching our heads.
Over the last few months, Spears has been frequenting her good ol' fast food places (she even spent Valentines Day with her beau, Jason Trawick, at McDonalds,) is still sometimes "forgetting" to wear a bra while out and about in public, and has been pap-snapped on several occasions lately wearing ripped, stained clothes.
Just last week a worse-for-wear looking Britney showed off a less-than-stellar bleached blonde weave (with black roots) and she is still donning racy, unflattering outfits – like earlier this year when she showed up in a bizarre black suit to music's night of nights, the Grammys.
A Pop Tarts spy also spotted Spears and Trawick together at the Mondrian Hotel in West Hollywood last week. And while the starlet smiled sweetly, her man was the one to do all the talking while she stayed inside her own little not-really-all-there "shell."
Spears certainly isn't that personality-plus pop princess she was back in her heyday – but some say she might not even be here today were it not for the conservatorship.
"The conservatorship saved Britney. It definitely helped her, no downside at all," said music/pop culture expert Nick White. "And it's like the old saying… if it's not broke, don't fix it."
According to Beverly Hills psychologist, Dr. Cassidy F. Blair, who does not treat Spears, it comes as no surprise that Spears seems to have become even more child-like since being placed under her father's hold.
"Once you begin treating someone as though they are a child and not competent enough to handle their life's responsibilities, they will eventually start acting as such. It is not surprising that Britney has become even more immature and more dependent by having been less accountable for her own decisions and consequences," Blair explained. "The first thing to look at is the fact that she clearly needs help and supervision in handling her responsibilities as a mother as well as her personal finances. The second element would be working with her on taking steps in learning to be a responsible adult and realize that she must eventually learn to grow up and take care of things herself, without relying on her father."
On that note, TMZ reported on Friday that Spears is indeed able to make most decisions when it comes to her day-to-day life, and her father has pulled back the reins and would like to see his daughter autonomous and able to return to her roots in Louisiana.
But even if Brit is one day able to take care of her own affairs, we may never see her spritely former self again.
"We are close as we are going to get to the 'old Britney,'" White said. "But even if her music numbers decline, she has lifelong iconic status."