'Roseanne' recap: David returns along with Beverly for a very serious episode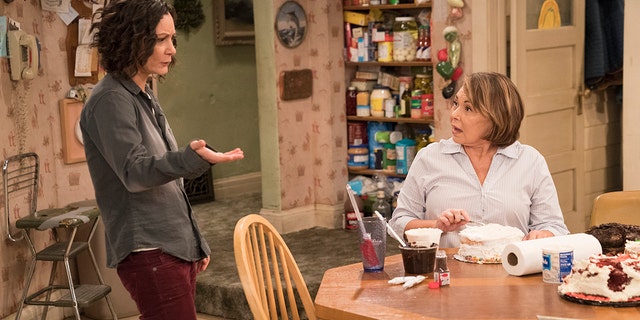 "Roseanne" brought back not one but two classic characters from the series in this week's episode. With Harris' birthday around the corner, Darlene gets a visit from her ex while Roseanne and Jackie face their greatest fear, the return of their mother.
The episode opens with Roseanne and Darlene shopping at the grocery store. As Roseanne uses DJ's daughter, Mary, to steal bacon from the self-checkout, a clerk comes over to inform Darlene that Harris smashed all the cakes. She orders Harris to the car and checks her phone to see a text from her estranged husband, David (plated by returnign star Johnny Galecki).
She puts together that Harris vandalized the merchandise in a tantrum over David's return. This is the first real mention of David since the revival, and for good reason. It's revealed that he was an unattentive father, only seeing his children three times since leaving them in Chicago. Apparently, he's been spending his time building houses in third-world countries.
Although Darlene is skeptical and anxious about his return, Roseanne tells her that she should give him another shot and that he's a good man. That's how Darlene figures out that her mother is still in touch with David. She yells at her, but later apologizes when they're home, noting that she's just confused about him and is completely lost when it comes to how he should interact with their kids.
As Roseanne is talking about giving David another shot as a dad, Dan walks in and voices his disapproval. He feels that there's no excuse for David leaving his family.
"Oh, he can walk in here, he just won't be able to walk out," he says.
As Darlene ponders what to do with David, there's a knock at the door and Jackie and Roseanne open it to see their mother, Beverly. It turns out, she was kicked out of her nursing home for having sex with multiple partners in various parts of the facility. As fans will remember, Beverly came out as a lesbian during the original run of the series, but it seems that information, like Dan's death, was simply part of Roseanne's scrapped book that now collects dust in the garage.
Beverly later reveals that she can't return to her nursing home because she gave a few of the men there gonorrhea. She says that she'll simply have to move in with Roseanne and Jackie, much to their chagrin.
Meanwhile, Darlene is in her bedroom wrapping a gift for Harris when David comes in through the window. Terrified of Dan, he says that his old entrance to the home was preferable to the front door. They start to talk and he's got news.
Darlene assumes that he's going to ask to get back together yet again, but he instead reveals that he signed a lease and is moving back to Lanford. He also confesses that he met a woman named Blue. He wants to move in with her, but needs to finally give Darlene a divorce in order to do so. Realizing this might finally be the end of her relationship with the father of her children, Darlene kisses David and the two have sex.
"What will I tell Blue?" he asks.
"Tell her she's got a stupid name," Darlene quips back.
The next day, they argue while he's leaving prompting Darlene to apologize. She's excited to tell her family that they're getting back together and doesn't want the day marred by a silly argument. Still, she knows it's a bad sign.
When she finally tells Roseanne and Becky the news, neither is on board. Darlene asks why her mom is upset, given that she was pushing for David to get a second chance. Roseanne says that she only thought David needed a second chance as a father, not as a husband. However, it's Becky of all people that finally gets through to Darlene. During last week's episode, Darlene helped her sister get over the death of her husband Mark, she echoed her advice about moving on back to her.
"David didn't die."
"No, but your marriage did."
Later that night, when David arrives to Harris' birthday party, Darlene meets him at the door to tell him that they're not getting back together.
"The truth is, we're delusional if we think we can make each other happy," she says through tears. "We're going to fight, you're going to run and we're going to break the kids' hearts."
When Dan comes out to ask if everything is OK, he makes it clear that David isn't welcome at the party, which he agrees to. Just like that, he's given a second chance to be the kids dad, but his days as Darlene's husband are done.