Roseanne Barr takes to Twitter to blast character's fate on show
SPOILER ALERT
Roseanne Barr on Tuesday blasted ABC for the morbid direction it took with "The Conners" — a spinoff of the "Roseanne" reboot that was axed earlier this year after Barr posted a racist tweet about an Obama-era official.
"The Conners," which premiered Tuesday, revealed that the titular character was killed off by an overdose of prescription pain pills.
ABC CANCELS 'ROSEANNE' AFTER BARR'S RACIST TWEET
Killing off the Roseanne Conner character was "an unnecessary grim and morbid dimension to an otherwise happy family show," Barr and her rabbi, Shmuley Boteach, said in a joint statement.
"Roseanne was the only show on television that directly addressed the deep divisions threatening the very fabric of our society," the statement read. "The show brought together characters of different political persuasions and ethnic backgrounds in one, unified family, a rarity in modern American entertainment."
Barr was slightly more direct on Twitter, 'I AIN'T DEAD, B-----S!!!!"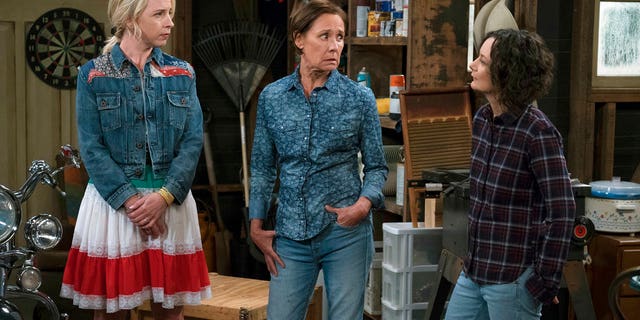 The "Roseanne" reboot was axed in May after Barr posted a racist tweet about former President Obama's aide Valerie Jarrett. The tweet read: "muslim brotherhood & planet of the apes had a baby=vj."
ABC Entertainment President Channing Dungey called the statement "abhorrent, repugnant and inconsistent with our values." He said the network would not be producing's the show's second season.
The cancellation of Roseanne is an opportunity squandered due in equal parts to fear, hubris, and a refusal to forgive.
Barr called out ABC for its unwillingness to forgive her.
"After repeated and heartfelt apologies, the network was unwilling to look past a regrettable mistake, thereby denying the twin American values of both repentance and forgiveness," her statement read.
ROSEANNE BARR'S FATE ON 'THE CONNERS' REVEALED IN SEASON PREMIERE
Barr revealed in September that her character would be killed off — a decision she called disrespectful to fans "who loved that family" on the original series.
"There's nothing I can do about it," Barr said previously. "It's done. It's over."
The original "Roseanne" series ran from 1988 to 1997. It was rebooted in March before being cancelled in May. "The Conners" airs Tuesdays at 8 p.m. ET on ABC.
Fox News' Sasha Savitsky contributed to this report.