Roseanne Barr retweets negative Valerie Jarrett comment after vowing to make amends
Roseanne Barr retweeted a negative comment about former Obama aide Valerie Jarrett, though her racist message about Jarrett last week led to the cancellation of the "Roseanne" revival.
Shortly after tweeting that she was ready to make "restitution for the pain" she had caused in the past week, Barr retweeted the message about Jarrett.

The Twitter user tagged Barr in the tweet that read, "You didn't cause any pain. Those people always hated you. Valerie Jarrett wants Israelis and Jews chased into the sea, and she'll celebrate."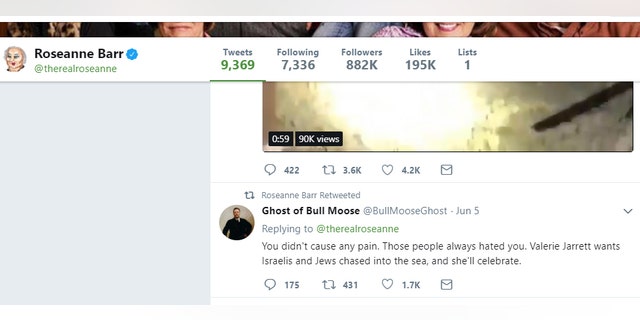 Barr's controversial retweet came about five minutes after the actress appeared to seek forgiveness from fans by sharing a tweet where she said, "I'm making restitution for the pain I have caused."
Though the 65-year-old actress claimed that she was going to quit the social media site following the news of her show cancellation, Barr has continued to express her feelings about ABC's recent decision by retweeting users who support her.
And according to the Daily Mail, the Tuesday afternoon retweet was not the first time the star retweeted a user who defended her previous comment about Jarrett.
The star reportedly shared another tweet on Tuesday from a Twitter user who said that Barr was not "bullying" the former White House Staffer when she described Jarrett as the baby of the "Muslim brotherhood & planet of the apes."
ABC swiftly decided to cancel Barr's widely popular reboot of "Roseanne" after her racist tweet.
The network's Entertainment President Channing Dungey told Fox News in a statement on May 29, "Roseanne's Twitter statement is abhorrent, repugnant and inconsistent with our values, and we have decided to cancel her show."
Barr apologized for the tweet, but then later tried to blame her controversial actions on her use of Ambien.
"I think Joe Rogan is right about ambien. Not giving excuses for what I did(tweeted) but I've done weird stuff while on ambien-cracked eggs on the wall at 2am etc -."
Sanofi, the makers of Ambien, fired back at Roseanne with a tweet of their own that read, "While all pharmaceutical treatments have side effects, racism is not a known side effect of any Sanofi medication."