Robert Redford says Sundance, the corporate sponsored playground for celebrities, is for the '99 percent'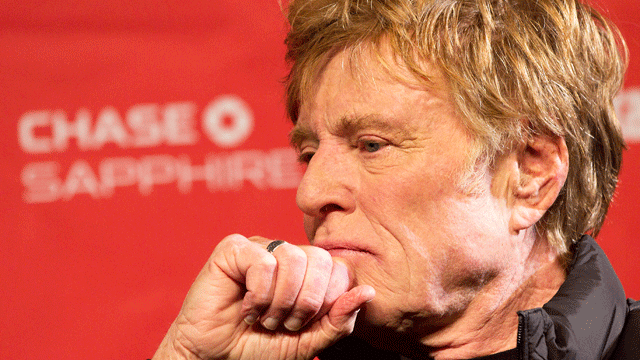 Attention, One Percenters! You can go home now. The Sundance Film Festival is not ... repeat NOT ... for you. (Except of course our corporate sponsors and super rich celebrity guests. You can stay. As a matter of fact, we'd be lost without you!)
That's the mixed message the was being sent as Robert Redford opened the 34th annual Sundance Film Festival with a populist pitch on Thursday, slamming the government for failing its citizens and talking about how Sundance exists for the forgotten "99 percent."
"We show stories of what people in America are really dealing with, and really living with, against a consequence of having a government that's let them down," Redford said. "People can come and say, 'God, at least we're seeing how people are really living in America, and what they're up against.' We square away on the 99 percent."
But the scene in Park City, Utah, where Sundance is held, would seem to run counter to Redford's characterization, with big corporations sponsoring virtually every event and venue, and super rich celebrities racing each other to scoop up corporate sponsor freebies.
First, let's look at the sponsors. The official Sundance headquarters "proudly brews Starbucks" with a pop-up stall assembled just for the festival. The Bing Bar hosts press conferences and interviews. Grey Goose Vodka sponsors several Blue Door events. The Acura Studio hosts premiere dinners. Even the city of Miami brought the Miami Oasis Suite to Park City to lure folks to the beach capital. And one of the hottest late night tickets is quite the sponsor mouthful: The T-Mobile Presents Google Music at TAO in Park City, which serves to recognize and support independent musicians through the launch of a new Google Music Magnified program.
PHOTOS: Corporate Sponsors at Sundance.
"There is no doubt that, whether we like it or not, commercialism is the engine behind the Sundance Festival and almost every other entertainment enterprise we value. Commercialism has only enhanced Sundance, not damaged it," Gene Grabowski, executive vice president of Levick Strategic Communications, told FOX411's Pop Tarts column.
"If Sundance were to revert to its indie roots, it would become almost irrelevant because it would be unable to attract the star power that has made it the event it is today."
Author Grant Cardone, founder of several multimillion-dollar companies, said companies should not be painted as evil by the arts industry. "Where there is no exchange of goods and services, there is not activity. This type of commercial exchange in the marketplace is what makes for a vibrant marketplace and allows for it to continue to grow and expand each year," he said. "People are going there to do deals, to make connections. They aren't gathering for the good of mankind or just some creative moment."
And then there are the celebrities who are there for the stuff. When they're not prompting films or trying to be photographed by paparazzi, many actors can be found filling duffel bags full of thousands of dollars worth of free goods by bouncing from one gifting lounge to another, in which title sponsors and vendors pay upwards of $50,000 dollars for the privilege of giving away free products to famous people. Smartphones, tablets, televisions, designer clothes, boots, bags, booze, jewelry, weight loss aids -- all is given away for free. This year Mary J. Blige, Emma Roberts, AnnaLynne McCord, Laura Prepon and William H. Macy were all spotted picking out goodies, and smiling for the cameras while they did it.
Stars who aren't even in festival's films come to town for a good time at the corporate-sponsored parties and suites, providing Sundance even more press. For instance, Sundance regular Paris Hilton once again flew to the festival in style, reportedly opting for a private jet with her younger brother Barron, 22, and his model girlfriend Vanessa Du Basso. Several other personalities, like reality stars Tinsley Mortimer and Stephanie Pratt, and "Dancing With the Stars" pro Chelsie Hightower, also scored VIP attention. In fact, a large number of people wandering around Main Street told Pop Tarts that they were having a blast at Sundance, and they hadn't seen a single film.
"Robert Redford may think Sundance reflects 'the 99 percent,' but while his heart is in the right place, I'm not sure he can even begin to fathom how hard it is for an average person to gain access to his elite world," said Los Angeles-based pop culture and entertainment expert Jenn Hoffman. "It's true that independent filmmakers still have a chance at securing funding through the festival, but even the so-called indie studios still are looking for 'names' to star in even the smallest films and are scouting for new movies they think will bring them the largest financial gain."
"The price of a plane ticket to Utah is more expensive than what most aspiring filmmakers can afford in this economy," she added. "Let alone all cost of all the marketing, networking dinners and social climbing events it can take to get a movie made."
And perhaps the clearest example of how Sundance is part of the "1 percent" and not the "99 percent" - the festival is being Occupied! This year a group calling itself Occupy Sundance has camped out in Park City. They say they are there to bring attention to the fact that out that of the 11,700 films submitted this year to Redford's festival, only 180 were accepted: about 1 percent. While Occupy Sundance organizers acknowledged that there is obviously no way that many films can possibly be officially screened in the weeklong festival, they are doing their best to represent the "99 percent" that weren't given the honors.
"While it was once a small little festival centered around movie screenings, the Sundance film festival is now more synonymous with gifting suites, corporate sponsored parties and free swag for the already wealthy members of Hollywood's elite," Hoffman says. "I dare any of the celebrities attending these parties to sit with the Occupiers on a freezing cold night or to donate their free gifts to members of Occupy Sundance."
The Sundance press department did not respond to a request for comment.