Sundance documentaries feature Ethel Kennedy, gay bishop and criminal justice system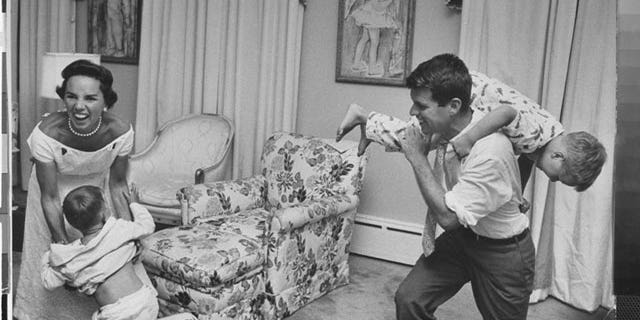 PARK CITY, Utah – The Sundance Film Festival has built a reputation for premiering a number of documentaries covering a wide range of thought-provoking, controversial issues, and 2012 is no exception.
Friday afternoon saw members of the Kennedy family descend upon Park City, Utah as filmmaker Rory Kennedy bowed her feature-length documentary "Ethel," shedding light upon the life of Ethel Kennedy, mother to eleven children, wife to the late Robert F. Kennedy, and long-time philanthropist.
Although the film brought to life many tragic moments – including the death of her parents and assassinations of her brother-in-law and husband, Ethel sat through much of the film quietly while sitting next to country sensation Taylor Swift, who flew into town just for the premiere screening.
"My intent was to document what happened in my family and who my mom really is and what she has contributed. Her perspective hasn't really been out there in the world, and I wanted to shed some light on these historical events that have contributed so much to American history," Rory Kennedy, who received a standing ovation, explained.
The film also reveals interesting details about Ethel's personal life – from her upbringing in an Irish-Catholic family, to late husband Robert dating her sister first. (Ethel has also spent 99 months of her life pregnant.)
But there was one part of the film Mrs. Kennedy wasn't too proud of" archival footage of her trying to speak Japanese during an overseas trip.
"I told you to leave that part out," she whispered to her filmmaking daughter during the screening.
On Sunday morning, prominent New Hampshire Bishop Gene Robinson led a morning service at St. Luke's Episcopal Church in Park City, in the wake of premiering Macky Alston's "Love Free or Die" which tells the story of his attempts to become the first openly gay Bishop. Since his controversial election in 2003, Alston has played a pivotal role in the contentious battle for LGBT equal rights in the church.
"For many people, his election was not okay, it was deemed Satan at work. But for others, he was a hero," Alston told FOX411's Pop Tarts column. "He meets the opposition everywhere he goes, and lives with constant death threats. But what I find powerful is his belief that this was the role he was born to play. My goal is to help people stand on the right side of history, and who we elect for president this year will have great impact on the fight for equality."
Although Robinson never intended to be the exemplar of gay bishops, "Love Free or Die" shows his side of the story – to continue serving God while staying true to his sexual orientation.
Next up, Peter Jackson took a break from his multi-million dollar fantastical New Zealand set of "Lord of the Rings" to present his investigative documentary "West of Memphis," which offered a powerful inside look at the apparent failure of justice in Arkansas.
For the past seven years, Jackson and his wife Fran Walsh have quietly financed investigations in the quest to free the "West Memphis Three" Jason Baldwin, Jesse Misskelley Jr., and Damien Echols who were convicted eighteen years ago for the brutal murders of three 8-year-old Cub Scouts in West Memphis, Ark. They were released in August of last year following years of appeals.
"West of Memphis," however, attempts to prove that they should never have jailed to begin with, as well as shed light on the failure of the American judicial system. It also provides fresh evidence in the case, including a new witness testimony alleging that Terry Hobbs, stepfather to one of the victims, told relatives he had was the one who committed the murders.
Also prompting a buzz in the Park City circle was "Finding North," a film that profiled three very different people struggling with food security, and how hunger poses serious economic, social and cultural implications for the United States. Featuring the likes of actor Jeff Bridges and Top Chef's Tom Colicchio, "Finding North" advocates making healthy food affordable for everyone.