REVIEW: 'Red' Enjoyable Action Thriller With a Sense of Humor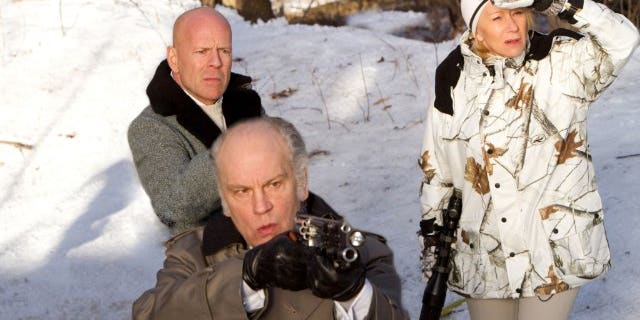 You can tell when the actors are having a good time in a movie. And it's always nice to see them enjoying themselves in something they also obviously see as worthwhile.
Which is what makes "Red" so much fun. It's not that "Red" is a breakthrough or a game-changer in any way – it's just a highly enjoyable comic action-thriller with a sense of humor about itself.
And you've got a classy cast, led by Bruce Willis, that includes four Oscar winners (Morgan Freeman, Helen Mirren, Richard Dreyfuss and Ernest Borgnine) and an Oscar nominee (John Malkovich). Plus Brian Cox, Julian McMahon and Karl Urban.
Oh yeah, and Mary-Louise Parker.
Parker provides the romantic spark with Willis, playing a low-level federal employee whose weekly highlight is a phone conversation with CIA pensioner Willis. Her life turns exciting when Willis shows up at her house and kidnaps her – because he (and, by extension, she) has been targeted by a hit squad for reasons unknown. They eventually regroup with Willis' old team: Freeman, Mirren and the wacky Malkovich to unravel the plot that threatens their lives.
Read the extended review of "Red" at Hollywoodandfine.com.
"Red" (it's actually an acronym for "Retired – Extremely Dangerous") is not a great film, but it's a pretty good one, designed to give you exactly what you want out of a piece of entertainment. It holds your interest while alternately thrilling and amusing, without insulting your intelligence. Go along for the ride and you'll happily lose yourself for the better part of two hours.
* * * *
4 out of 5 stars
More Reviews at Hollywoodandfine.com
"Life As We Know It" Not that Bad
"Stone" Challenging and Compelling