Report: Rihanna Spotted 'Snuggling' With New Man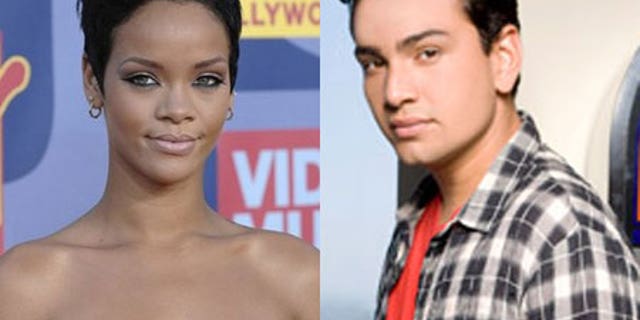 Has Rihanna moved on from her tumultuous romance with Chris Brown to a new man?
According to a report from RadarOnline, the singer, 21, was spotted "snuggling" and "nuzzling" with reality television star Frankie Delgado at L.A. hotspot Delux Thursday night. Things even got so hot for the two that Rihanna reportedly gave Delgado a lap dance when the Destiny's Child song "Bug-A-Boo" started playing.
"[Frankie] kept pulling at Rihanna's white dress and she giggled, playfully pushing him away and then hugging him," a source told Radar.
PHOTOS: Click here for more photos of Rihanna.
But the private party — where the "Umbrella" singer downed Belvedere screwdrivers and Redbull and vodkas — wasn't her first club appearance with Delgado this week. On Wednesday, Pop Tarts spotted Rihanna at West Hollywood's Nobu, where she went "out of her way" to give Delgado and fellow "Bromance" star Brody Jenner a big hello.
But Rihanna may just be celebrating turning 21 however, as last week she was spotted getting cozy with "That 70's Show" star and Lindsay Lohan ex, Wilmer Valderrama, at a club. And according to Pop Tarts sources, she's still seeing the troubled Brown.
Still, her new and relaxed appearance is a far cry from the chaotic last month, where she kept a low profile after Brown allegedly assaulted her on Feb. 8, leaving her bruised and bloodied. Brown is due in court on April 6, where he will be arraigned on felony charges stemming from the alleged brutal attack.
FOXNews.com's Hollie McKay contributed to this report.