Report: Mickey Rourke Engaged to Russian Model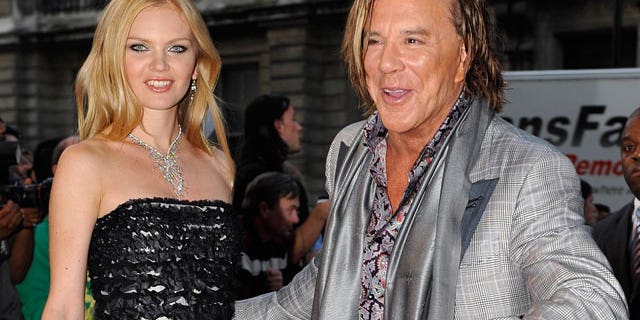 NEWYou can now listen to Fox News articles!
Reformed Hollywood hell-raiser Mickey Rourke is making plans to wed Russian beauty Elena Kuletskaya in Russia this spring, sources tell Page Six.
Rourke, 57, has been dating stunning blond model Kuletskaya, 24, for several months and popped the question to her over dinner last week. The star has told friends he's planning a Moscow wedding in April.
"They haven't booked a venue or made any solid plans. He just knows he wants to do it in April, and he's been asking what is involved in a traditional Russian wedding ceremony," a friend of Rourke said.
SLIDESHOW: Mickey Rourke's New Leading Lady, Elena Kuletskaya.
Kuletskaya reportedly dumped Russian pop star Dima Bilan for Rourke, whom she's been tutoring in her native tongue for his role as Russian villain "Whiplash" in the upcoming "Iron Man 2." She and Rourke have recently canoodled their way through New York and Europe. She was dripping in diamonds as she accompanied Rourke to pick up his GQ Man of the Year award at London's Royal Opera House in September.
In Manhattan last week, the lovebirds went puppy shopping to replace Rourke's beloved dog, Loki, who died right before the Oscars.
Rourke has already hit it off with his mother-in-law-to-be: our spies spotted him giving Elena's mom the star treatment a while ago at The Bank at Wonderland in LA.