Report: Marc Anthony and 3rd wife, Shannon De Lima, are splitting up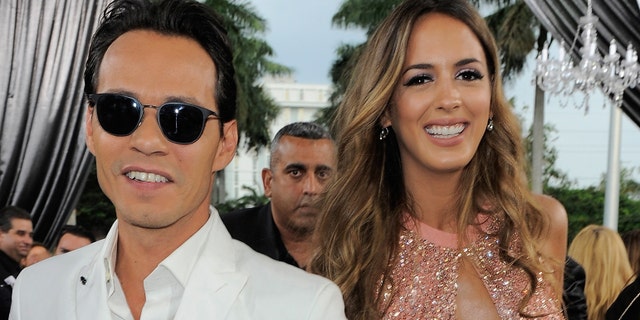 The day after Marc Anthony, 48, and his ex-wife Jennifer Lopez locked lips at the Latin Grammy Awards, sources confirmed to E! News that Anthony and his wife, Shannon De Lima, 28, are saying adios.
The singer began dating De Lima only five months after announcing his split with J.Lo in 2012, and two years later the Grammy winning crooner married the Venezuelan model in a private ceremony in the Dominican Republic.
The musician went public in 2012 with his romance via social media when he called the leggy beauty his "Statue of Liberty."
In 2013, the two parted ways "amicably" according to his representative, but, as lovers do, the two reunited. In Oct. 2014, they famously puckered up for Anthony's video, "Flor Pálida" ("Pale Flower"), and the two married a month later.
It is now three broken marriages for the singer. His first wife was the Puerto Rican actress, singer and Miss Universe winner, Dayanara Torres. His second was Lopez.
Anthony has two sons with Torres, Cristian and Ryan, and twins Emme and Max with J.Lo.
Lopez, who recently broke up with her boyfriend Casper Smart, shared an intimate kiss with Anthony Thursday night on the Grammy Award stage, following a performance of their duet, "Olvidame y Pega la Vuelta" ("Forget Me and Turn Away"), and the presentation of his Person of the Year Award.
.
De Lima was absent from the ceremony, and much was made in the media of the fact that he was not wearing his wedding ring.
Like us on Facebook
Follow us on Twitter & Instagram