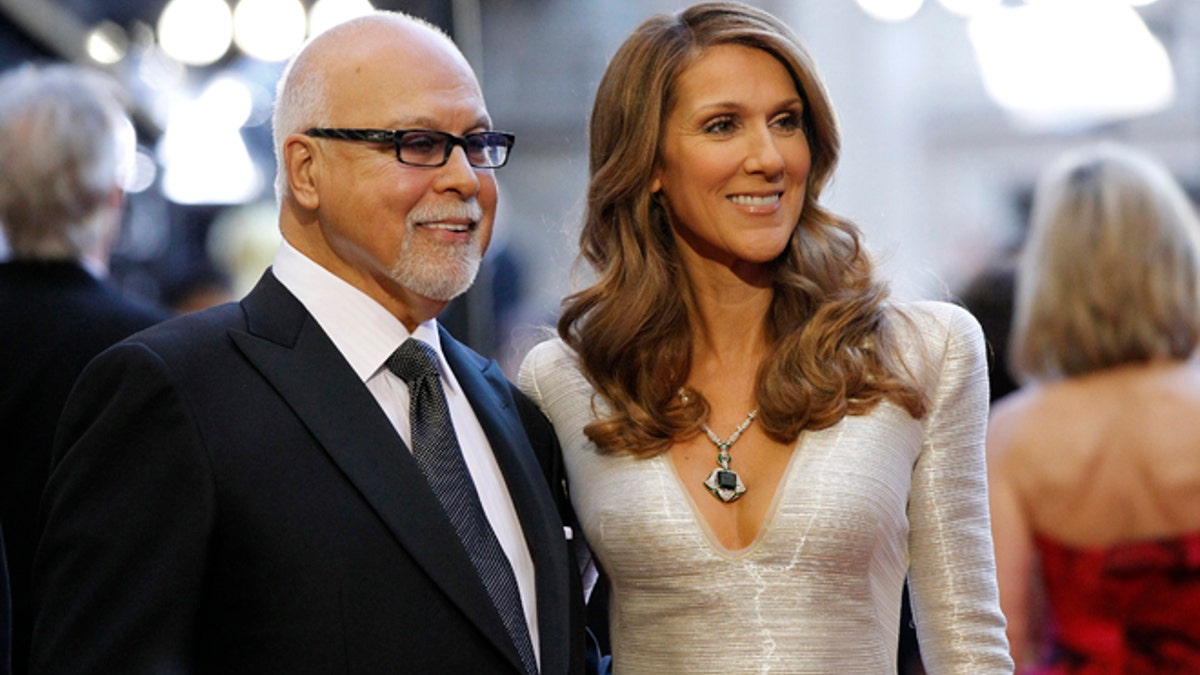 Rene Angelil, Celine Dion's husband and manager, who molded her from a French-speaking Canadian ingénue into one of the world's most successful singers, died Thursday after a long battle with throat cancer, officials and family members said.
The 73-year-old Angelil died in the suburban Las Vegas home in Henderson he shared with Dion and their three children.
Angelil died of natural causes under the care of a doctor, Clark County Coroner John Fudenberg said. No further investigation was expected.
A post on Dion's Facebook page said: "It is with deep sadness that we announce that René Angélil, aged 73, died this morning at her residence in Las Vegas after a long and courageous fight against cancer. The family wishes to live the mourning in privacy."
U.S. Sen. Harry Reid of Nevada issued a statement saying he has always appreciated the couple's support because they took a risk on Las Vegas when Dion began her residency in 2002 at The Colosseum at Caesars Palace.
"As a result, we in Las Vegas feel Céline Dion is one of ours," Reid said. "She has brought so much positive attention to our city. Her love affair with René and her family was something that was so admirable."
Angelil was born in Montreal to a Canadian mother and Syrian father. He became the love of Dion's life and the linchpin for her huge success, guiding her career for most of her life.
Angelil was a former singer-turned-manager when he received an audio tape of Dion, then 12, from her mother.
"At that time I had been in the business for 20 years," Angelil recalled in a 1991 interview with The Associated Press. "In those 20 years, I had never heard or had a feeling come out of someone like this little girl I had in front of me. I had shivers all over, you know."
Dion has said he mortgaged his house to finance her first album. In time, Dion's voice would become one of the most popular in the world, recalling big-voiced singers such as Barbara Streisand and Whitney Houston.
Initially, she only sang her in native French, and while she was a huge star in her native Quebec, it didn't translate to widespread international success. She had to learn English to gain success in the United States and other countries.
By the late 1990s and 2000s, her soaring voice had become dominant on the radio. The theme from "Titanic," the smash "My Heart Will Go On," has been her defining hit.
She and Angelil married in 1994 in an elaborate ceremony at Notre Dame Basilica in Montreal. He was constantly seen by her side.
In 2000, he was at the center of a high-profile extortion case.
Court records indicate that Angelil agreed to pay Yun Kyeong Kwon Sung $2 million in "hush money" after she claimed he fondled her in an elevator of the Imperial Palace hotel-casino on the Las Vegas Strip.
Angelil's lawyer revealed the terms of the confidential settlement to a grand jury that indicted Sung and her husband on charges of extortion and bribery. Angelil acknowledged no wrongdoing and was never charged.
The Nevada Supreme Court in 2008 overturned the charges against Sung and her husband.
Angelil told the Las Vegas Sun in 2003 that he paid the money because he was worried about his wife's welfare as they struggled to conceive and that they didn't "need the stress."
Dion was public about her difficulty, revealing that she underwent procedures to eventually get pregnant with her children, Rene-Charles and twins Nelson and Eddy.
Angelil also had a son and daughter from his previous two marriages.
Angelil was first diagnosed with skin cancer while they were trying to conceive their first child. After he was born, and with Angelil on the mend, Dion retreated from touring and started the residency in Las Vegas so she could be more stable.
Dion said Angelil had talked about dying and even discussed his funeral plans.
"I'll say, 'You're scared? I understand. Talk to me about it.'" she told USA Today. "And René says to me, 'I want to die in your arms.' OK, fine, I'll be there, you'll die in my arms."