Recipe: Easter dinner mixes the Bayou and Big Apple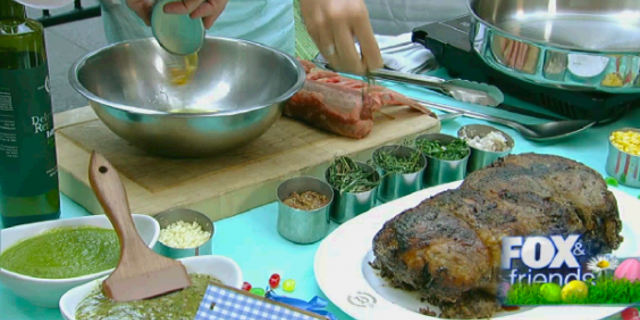 NEWYou can now listen to Fox News articles!
Want to make an Easter dinner that mixes the Bayou and Big Apple? Executive Chef Billy Oliva of Delmonico's and Executive Chef Michael Regua of Antoine's showed us how with these recipes on "Fox & Friends" this morning:
Rack or Leg of Lamb with Spring Onion Pesto
Recipe by Chef Billy Oliva, Delmonico's
1 Leg or rack of Lamb
2 tbsp olive oil
salt and pepper
Wet Rub
2 tbsp honey
2 tbsp EVOO
1 tbsp Whole grain mustard
1 shallot (minced)
1 garlic clove (minced)
2 tsp lemon zest
Salt and pepper to taste
1/4 assorted chopped herbs (Rosemary, mint, sage)
Spring Onion Pesto
1/2 cup blanched spring onions
1/2 cup pine nuts, toasted
2 tbsp olive oil
salt and pepper to taste
Directions:
Rack or Leg of Lamb
1. Make sure leg or rack of lamb is dry. If needed blot dry with paper towel. Season with salt, pepper, & olive oil. Place on hot grill. Sear rack or leg on all sides until golden, about 2 minutes. Once all sides are seared place leg or rack on indirect heat until cooked to desired temperature.
2. Spread wet rub on rack or leg of lamb and cover with chopped herbs
3. For rack of lamb about 25 minutes for medium. For leg of lamb about 40 minutes for medium
Spring Onion Pesto
1. Place spring onions and pine nuts into food processor. Pulse to combine.
2. Slowly add olive oil to form puree. Season with salt and pepper.
3. Cover and refrigerate.
Spring Vegetable Medley
Recipe by Chef Billy Oliva, Delmonico's
8 ounces morels
12 Fiddlehead Ferns (blanched)
1/2 cup English Peas (blanched)
1/2 cup fava beans (blanched)
1 bunch of asparagus (blanched)
4 cipollini onions (blanched)
2 tbsp olive oil
1 tsp chopped garlic
Sea salt and black pepper to taste
Directions:
1. Over medium heat add olive oil to sauté pan.
2. Add morels and chopped garlic. Sautee for a 2 minutes.
3. Add all other vegetables to pan. Season with sea salt and black pepper.
4. Cook until vegetables are warmed through and until morels have softened.
Pompano Pontchartrain (Filet of Gulf Fish with Brown Butter Sauce and Crabmeat)
Recipe by Chef Michael Regua
Six 8-10 oz. Pompano filets, skin on, middle bones removed (Substitute Drum for Pompano)
1/2 cup oil (cotton seed)
1 bunch green onions - chopped finely
1/2 cup white wine
1/2 cup lemon juice
1 1/2 cups melted butter
1 Ib. fresh jumbo lump crabmeat
Pinch of Salt
Pinch of White Pepper
Pinch of Thyme
Pinch of Basil
For Garnish:
6 parsley sprigs
6 pieces of quartered lemon
1/3 cup chopped parsley
Start off by sprinkling each Pompano/Drum filet with salt, pepper, thyme and basil on both sides. Brush each side of each filet with oil and place each filet skin up in the pan to cook for 3-4 minutes or until slightly brown. At this point turn filet over in pan and let them cook for another 3-4 minutes on the skin side until done.
While the fish is cooking, in another skillet add green onion, melted butter, lemon juice, white wine, salt, pepper, thyme, basil and crabmeat. Sauté until hot and the mixture starts to boil, not too long though because the crabmeat is already steamed. Once fish and crabmeat mixture is finished place the cooked fish on the center of the plate. Put 1/6 of the crabmeat mixture on top of each Pompano filet. Garnish with a parsley sprig and lemon quarter. Sprinkle with parsley. Enjoy!
Serves: 6
Roasted Corn
Recipe by Chef Michael Regua
7 – ears fresh corn cleaned (soak in hot water 10 minutes)
1 – Med white onion (med chopped)
½ - bunch green onion (med chopped)
¼ - bunch parsley (med chopped)
4 – cloves garlic (chopped fine)
15 – cherry tomatoes (cut into halves)
1 oz. olive oil & 2 oz. butter
Salt, pepper & Tabasco, pinch thyme
Lightly salt the corn spread olive oil on each, cook the corn on a grill turning , till a little brown and start to tender. (after cool , cut off the husk)
In a skillet with the butter sauté white onion, green onion, garlic & parsley till tender. Add thyme, the corn , salt , pepper & tabasco to taste. Last add the tomatoes cook 2-3 minutes. Serve in a casserole dish.
Yield: 3 – 8 oz. casserole