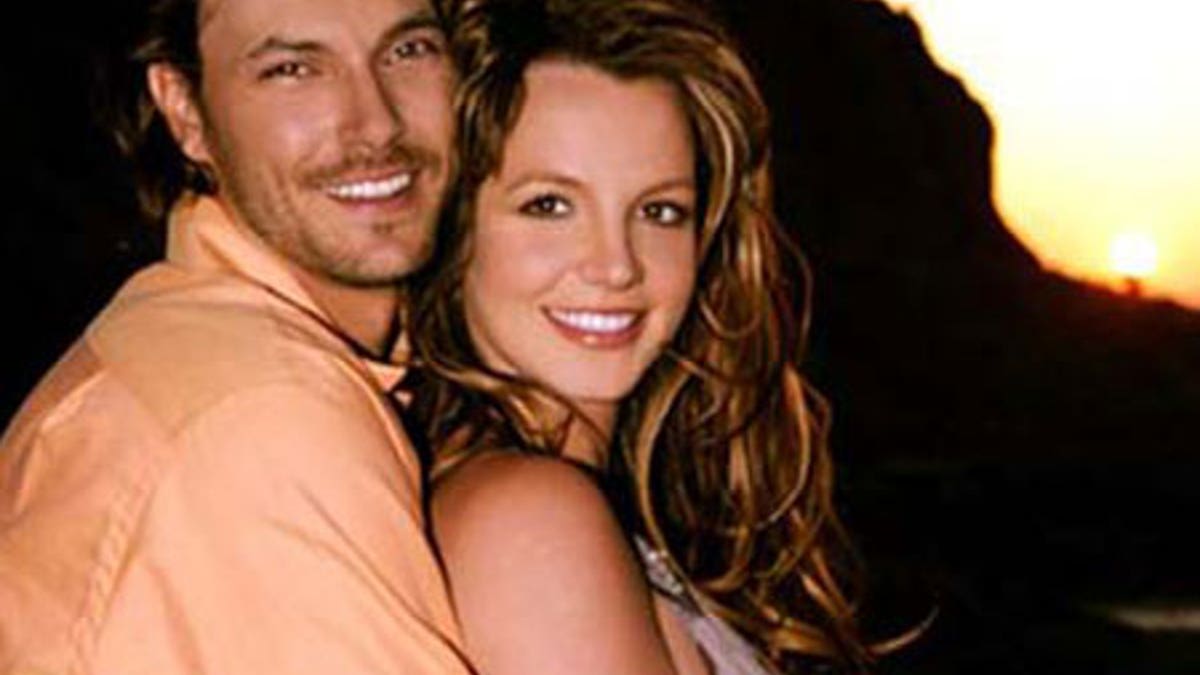 The "Tori & Dean: Home Sweet Hollywood" season finale is drawing near and causing quite a stir (what with Candy Spelling's open letter to TMZ chastising her daughter for pimping out her grandkids on TV). But if you're lamenting the loss of a good reality couple while they're on hiatus, don't despair. Bill Rancic and Giuliana DePandi-Rancic are coming to the rescue as the latest real-life couple to bare all in front of the cameras with their new show, the cleverly named "Giuliana & Bill."
So far, both couples seem to be holding their marriages together in spite of (or maybe because of) the constant spotlight, but other reality TV pairs have not fared so well. Take a look at these small-screen spouses who've opened up their marriages to the cameras through the years, then check out our Magic 8 Ball predictions for their futures.
PHOTO GALLERY: See famous reality TV couples through the years.
Kendra Wilkinson and Hank Baskett: "Kendra"
MARITAL STATUS: Married for one month
Kendra Wilkinson is famous for getting naked, and Hank Baskett is an NFL wide receiver. Sounds like perfect fodder for a reality show. Kendra met Hugh Hefner when she was hired to be one of the painted ladies (yes, completely nude except for the minimal brushed on "clothing") at a Playboy Mansion party, and she soon moved in and became one of "The Girls Next Door." Last year, she left Hef and started her own reality show, "Kendra." By the second episode, she'd announced she was engaged to football player Hank. So much for the life of a single girl. Most of the first season has focused on their wedding plans (the episode featuring the big event with fellow "GND" girlfriends Holly Madison and Bridget Marquardt as her bridesmaids airs this week), and her latest announcement that she's with child. Really? Does anyone think that's a good idea? She says she's taken down the stripper pole and plans to be a very strict, Christian mother. We give this marriage (maybe) one more season. Hank has got to be growing sick of the hyena laugh already.
MAGIC 8 BALL PREDICTION: Will they stay married? Don't count on it.
Jon and Kate Gosselin: "John & Kate Plus 8"
MARITAL STATUS: Filed for divorce in June 2009
Are you all tired of Jon and Kate, yet? We are. One in a string of couples to capitalize on having too many children, Jon and Kate have taken the debacle a step further with a public affair and a nasty breakup. Just this week, Kate bought a condo as part of their separation agreement. Apparently, the eight kids will reside in the giant house, and Kate and Jon will take turns living there with them. So you see, they both need their own condos, too (plus there's more room for the production crew in the mansion). And it is, after all, about the kids, who won't be scarred by this freak show in any way, right? We hope Jon and Kate remain apart, and we'd like to see the show go away, but since it's one of TLC's highest-rated programs, that's unlikely.
MAGIC 8 BALL PREDICTION: Will they go away? Outlook not so good.
Scott Baio and Renee Sloan: "Scott Baio Is 45... and Single" and "Scott Baio Is 46... and Pregnant"
MARITAL STATUS: Married for two years
First Scott Baio ("Happy Days," "Joanie Loves Chachi," and "Charles in Charge") was 45 and single and spent a whole season hemming and hawing about all his past lady friends and his fear of committing to his long-time girlfriend, former Playmate Renee Sloan. Season One ended with a marriage proposal and a pregnancy test, and Season Two started with a title change, "Scott Baio Is 46... And Pregnant." The show was not picked up for a third season and shortly after their son, Bailey, was born, the couple had a health scare when a false-positive test indicated their baby might have a metabolic disease. Fortunately, Bailey is now happy and healthy, and the Baios seem to be going strong outside the reality TV spotlight. We think becoming a daddy is the best thing that ever happened to him (along with producing "Confessions of a Teen Idol").
MAGIC 8 BALL PREDICTION: Will Scott and Renee stay together? Signs point to yes.
Spencer Pratt and Heidi Montag: "The Hills"
MARITAL STATUS: Married for three months
Spencer Pratt and Heidi Montag are quite possibly the most despicable pair on TV, and we can't help but ask, is there anything real about these "reality" stars? Are these two truly this horrible or is it just an act for the cameras hired to capture the real-life drama? Can they possibly be as deeply spiritual as they claim to be while still conducting themselves as completely dreadful human beings? Maybe their new book due out this fall, "How to Be Famous," will answer some of the burning questions, or maybe it will just continue the charade. Speidi got married in November 2008 and again in 2009 in front of 200 of their closest reality TV show friends and extras. If the personas they have created are as compatible as they seem, they might just stay together forever, but since no one knows who they really are, the future is clouded.
MAGIC 8 BALL PREDICTION: Will the union last? Reply hazy, try again later.
Gene Simmons and Shannon Tweed: "Gene Simmons: Family Jewels"
MARITAL STATUS: Unmarried for 25 years
Kiss rock god Gene Simmons has been "happily unmarried" to 1981 Playmate of the Year Shannon Tweed for 25 years. And as they have explained numerous times on their four-plus season TV show, "Gene Simmons: Family Jewels," the arrangement seems to work for them. He still gets to be a dog on the road, and she gets to spend all his money, live in a mansion, and be on TV. They get to have their cake and eat it, too.
MAGIC 8 BALL PREDICTION: Will they stay unmarried? Most likely.
Hulk and Linda Hogan: "Hogan Knows Best"
MARITAL STATUS: Divorced in July 2009
Ex-wrestler Hulk Hogan (aka Terry Bollea) and his wife of 24 years, Linda, have finally settled their divorce just this past week. The two-year battle out of the ring started when Linda filed papers without telling her husband, who had allegedly cheated on her with their daughter Brooke's friend, Christiane Plante. Sounds like a soap opera, no? Well, yes, kind of. It was all captured on camera for the reality TV series "Hogan Knows Best," but this drama never aired, because the show was canceled before Season Five was aired. Still, the first four years often dealt with the Hogans' marital issues. What better place to go to marriage counseling than on TV, we always say. Hulk has since been dating Jennifer McDaniel (who looks oddly just like daughter Brooke, eeewww!), and Linda has been linked to a 20-year-old classmate of her son, Nick.
MAGIC 8 BALL PREDICTION: Will the couple ever reunite? The reply is no.
Reverend Run and Justine Simmons: "Run's House"
MARITAL STATUS: Married for 15 years
Reverend Run, aka Joseph Simmons (founding member of Run-D.M.C., rap star, and ordained minister) has been married to Justine since 1994. They have three children together and three kids from Run's previous marriage, and all of them have been featured in the reality TV series "Run's House" since 2005. Season Six is airing now, Season Seven is set to start taping in the fall, and Joe and Justine's marriage still seems to be going strong. They and the family have banded together in tough times (such as the loss of baby daughter Victoria in 2006) and celebrated the happy occasions side by side, like the subsequent adoption of Miley in 2008. In a recent interview in People magazine, Run gave advice to Jon and Kate about being a reality TV couple: "If you cherish your wife and kids, that's where your energy goes."
MAGIC 8 BALL PREDICTION: Will Run and Justine outlast reality fame? Signs point to yes.
Christopher Knight and Adrianne Curry: "My Fair Brady"
MARITAL STATUS: Married for three years
Peter Brady married "America's Next Top Model" on reality TV, and they lived happily ever after. Right? Well, maybe. Christopher Knight met Adrianne Curry on VH1's "Surreal Life" in 2005, and they began dating. That same year they opened their very rocky relationship up to the cameras for their own show, "My Fair Brady." The first season followed their on-again, off-again romance, leading up to a perfectly timed proposal on the finale. Season Two centered mainly on plans for the elaborate wedding Adrianne wanted vs. the low-key affair Chris was imagining. The show even included a visit from his TV mom, Florence Henderson, who made a public statement that she thought the engagement was being forced by VH1 and the relationship was a sham. Still, despite FloHen's objections, the couple married and filmed a third season of the show, which ended with Adrianne tossing out her birth control pills. A great cliffhanger for a Season Four that never was picked up. And so now we're left wondering: What happened to Chris and Adrianne? They've managed to stay below the radar this past year, and so we speculate that maybe they're doing OK without the cameras around.
MAGIC 8 BALL PREDICTION: Are they making it work? Reply hazy, try again.
Travis Barker and Shanna Moakler: "Meet the Barkers"
MARITAL STATUS: Divorced for five years
Reality TV was not very kind to Travis Barker (drummer for Blink-182) and Shanna Moakler (former Miss USA). Season One of "Meet the Barkers" showed us the newlyweds, very much in love and raising two kids (one from her first marriage and their own son, Landon). In Season Two, we started to see the cracks, and even though the series ended with the happy news and birth of their daughter, Alabama, the couple split soon after. When tragedy hit in 2008, Shanna rushed to her ex's side after his plane crash, and the two remained close during his recovery. There was even chatter about remarriage, but the couple has since split for good.
MAGIC 8 BALL PREDICTION: Will there be a reconciliation? Very doubtful.
Britney Spears and Kevin Federline: "Britney & Kevin: Chaotic"
MARITAL STATUS: Divorced for two years
Wouldn't it all make more sense if we could just blame the reality show "Britney & Kevin: Chaotic" for the demise of the Britney/K-Fed relationship? We know by now that opening the marital doors to the cameras usually does more harm than good. But in this case, those were the best of times for the pop star and her back-up dancer boyfriend. After the series ended, the pair started with the babies, the fighting, the shaved head, and the custody battle. And while the writing seemed to be on the wall since Episode One, no one can truly fault the show for the inevitable break. Reports are floating around the Internet that K-Fed is in talks for a new reality show with sons Jayden James and Sean Preston and his current girlfriend, Victoria Prince. Will Britney make guest appearances? We can only hope.
MAGIC 8 BALL PREDICTION: Will Britney and Kevin ever marry, baby, one more time? Don't count on it.
Whitney Houston and Bobby Brown: "Being Bobby Brown"
MARITAL STATUS: Divorced for three years
"Being Bobby Brown" was one of the earlier docudrama series featuring big stars opening their homes to cameras. The show was supposed to be a vehicle for Bobby Brown's career comeback, but MTV only agreed to produce the series if then-superstar and then-wife Whitney Houston would appear as a regular cast member. It did sort of succeed in bringing back Bobby, but it also succeeded in bringing down Whitney — well, that and an alleged crack habit. Remember, "Crack is wack!," and if you don't think so, you can "Kiss my ass!" The pair stayed married for another year but divorced in 2006. Whitney is set for her own resurgence in August 2009 (unless, that is, it is postponed — again.)
MAGIC 8 BALL PREDICTION: Will Whitney and Bobby avoid a reality TV comeback and stay apart? Signs point to yes.
Jessica Simpson and Nick Lachey: "Newlyweds: Nick & Jessica"
MARITAL STATUS: Divorced for three years
Nick and Jess have been all over the news lately. NFL star Tony Romo dumped Jessica on her birthday, and Nick just split from Vanessa Minnillo, so of course rumors started swirling that the pair would hook up again. Could we have a "Newlyweds 2" on our hands? Could we relive moments like Jessica's classic mistake that "Chicken of the Sea" was poultry? Maybe John Mayer could get Jess back and get a TV show in the process, because that would be more a likely reunion.
MAGIC 8 BALL PREDICTION: Will Nick and Jessica reunite? Outlook not so good.
Carmen Electra and Dave Navarro: "Carmen & Dave: An MTV Love Story" and "'Til Death Do Us Part: Carmen + Dave"
MARITAL STATUS: Divorced for three years
Rock star Dave Navarro (Jane's Addiction, Camp Freddy, and Red Hot Chili Peppers) and "Baywatch" babe and Playboy model Carmen Electra seemed like a pretty well-matched couple. And on their first MTV reality show, "Carmen & Dave: An MTV Love Story," the sparks flew, and we wanted more. So, apparently, did they, because two years later they returned with "'Til Death Do Us Part: Carmen + Dave" to chronicle their trip down the aisle. Three years later they split, although no one seems to have a good reason why. And we wonder if Dave will want her back after seeing her on the January cover of Playboy or in last month's topless pictures at Vega's Crazy Horse. It doesn't seem like her current fiance, Otep's Rob Patterson, would be too happy about that.
MAGIC 8 BALL PREDICTION: Will they stay "just friends"? Most likely.
Ozzy and Sharon Osbourne: "The Osbournes"
MARITAL STATUS: Married for 27 years
Ozzy and Sharon Osbourne have been together since 1979. Through 30 years, they've weathered things a lot tougher than a silly reality show. They fought alcohol and drug addiction, music career slumps, affairs, and even cancer. But through it all, they stuck together. So cameras following them around couldn't damage this tough-as-nails couple. For three years we watched a subtitled Ozzy mumble through life on "The Osbournes," and then we saw Sharon's career skyrocket with her own talk show and "America's Got Talent" and "Rock of Love: Charm School." Of course, Ozzy and Sharon still have failures, such as their attempt at a variety show last year ("Osbournes: Reloaded").
MAGIC 8 BALL PREDICTION: Will Ozzy and Sharon avoid the reality show couple curse? Signs point to yes.
More at Getback.com: Celebrity Cancer Survivors: Stars Who've Beat the Odds