'Real Housewives' star Ramona Singer is back on the market and feels 'better than ever'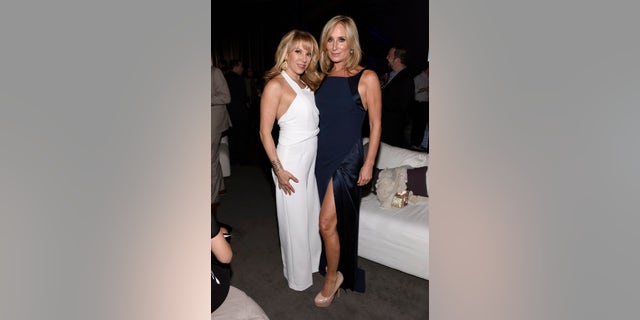 NEWYou can now listen to Fox News articles!
NEW YORK – "Real Housewives of New York" stars Sonja Morgan and Ramona Singer celebrated the premiere of Season 8 of their hit Bravo show at a private party at Beautique in New York City on Tuesday night.
Morgan and Singer showed up with a young, handsome, male model, and they were the life of the party as they celebrated their newfound singleness and talked about their nicer, softer approach to the new season.
"I'm the mediator this season!" Singer told FOX411. "You'll see me trying very hard to get everyone to get along."
Since Singer's very public divorce was finalized on November 24, 2015, she is excited to share "a new, lighter, happier Ramona." The reality star has said the downfall of her marriage to Mario Singer and his cheating scandal took a toll on her.
"Well my divorce was finally finalized in the fall, and I'm very happy because it really went well for me," she told us. "I had two five month relationships, one right after the other, and I thought… what am I doing? Why am I getting myself into an exclusive relationship? I've been married for so long, over 20 years, just you know, go out there and enjoy yourself."
Singer says her goal is to embrace life and all of its opportunities, including relationships.
Her closest ally on the series, Morgan, also talked about playing nice this season and her attempts to lay low.
"They always pick on my drinking, my business, and my boyfriends— too young, too old," she said. "I'm easy to pick on--when you're nice it's easy to pick on [you]!"
"The Real Housewives of New York City" is set to premiere on April 6.