Randy Travis out of surgery after suffering stroke, publicist says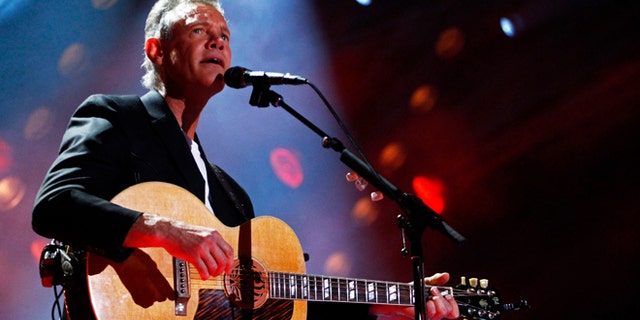 Country music stars and fans joined together to urge prayers for Randy Travis on Thursday after he underwent brain surgery following a stroke at a Texas hospital.
Travis remained in critical condition Thursday after surgery to relieve pressure on his brain Wednesday night, publicist Kirt Webster said. The 54-year-old Grammy Award-winning singer had been improving while being treated for heart failure caused by a viral infection when he had the stroke.
Nancy Jones, the widow of Travis' lifelong hero George Jones, paid a visit to Travis on Thursday. Stars including Hillary Scott of Lady Antebellum and Martina McBride and the Grand Ole Opry used Twitter to express their concerns and join Webster's call for prayers for the singer, a popular and pivotal figure in country music. Hundreds posted messages with the hashtag PrayforRandy.
"We're all pulling for you Randy," Brad Paisley said via Twitter.
The setback occurred hours after doctors said Travis was showing signs of improvement since the start of treatment Sunday for congestive heart failure and the insertion of a pump to help his heart increase blood flow.
His doctors said Wednesday in a video statement that his heart problem stemmed from an upper respiratory infection caused by a virus, but they have not released any information since.
Infections, both viral and bacterial, may start elsewhere in the body but sometimes can affect the heart, either because the infection itself spreads or because immune cells that are fighting it enter the heart and cause inflammation.
About 20 different viruses, including the flu, can lead to this so-called myocarditis, and there's no way to predict who is at particular risk, said Dr. Justine Lachmann of Winthrop University Hospital in Mineola, N.Y. When younger people develop heart failure, it's usually for this reason.
Most people recover from myocarditis, but a small number rapidly develop life-threatening illness -- experiencing a domino effect as the inflammation weakens the heart muscle, leading to congestive heart failure, in which the heart can't pump properly. Doctors treat them with supportive care, trying to allow the heart muscle to rest and recover, sometimes by inserting devices such as the one Travis received to help the heart pump.
Heart problems can lead to a stroke and can cause other complications.
It was not clear what kind of stroke Travis suffered. The most common type of stroke is caused by a blood clot that travels to the brain. The other kind happens when a blood vessel in the head bursts or leaks. Stroke patients who get treatment quickly are usually given a drug to dissolve the clot that caused the stroke.
Drs. William Gray and Michael Mack of the Baylor Health Care System in Texas described Travis' condition and hospitalization for the first time in a video statement earlier Wednesday, noting his condition had stabilized and he had "shown signs of improvement."
Hours later, he was in the operating room. Doctors had not yet addressed Travis' current condition publicly Thursday and Webster said in an email he had no further information to release.
The "Three Wooden Crosses" singer was in good health until three weeks before he was hospitalized, when he contracted a viral upper respiratory infection, Gray said.
Travis was admitted to Baylor Medical Center McKinney near his home in Tioga, about 60 miles north of Dallas, through the emergency room Sunday. He was transferred to The Heart Hospital Baylor Plano after having the pump installed via catheter.
Travis' illness comes as he's been trying to put his life back together following a series of embarrassing public incidents involving alcohol. Travis pleaded guilty to driving while intoxicated in January following an arrest last year and received two years of probation and a $2,000 fine. He was required to spend at least 30 days at an alcohol treatment facility and complete 100 hours of community service.
He recently made several public appearances, including a spot on the Country Music Association Festival's nightly concert lineup and a poignant performance at George Jones' funeral.
Nancy Jones flew to Plano from Nashville to be with Travis and his fiancee, Mary Beougher, Webster said. She played a CD of some of Jones' classic songs for Travis.
"Randy and George Jones were good friends," Nancy Jones said in an email to The Associated Press. "When I was dealing with George's issues a few months ago, both Randy and Mary were right there for me. I had to get on a plane and come see him. I love him and I know that George is looking over him during this time."
Webster said Travis is surrounded by family and friends, including his brother, Dennis Traywick, and his pastor, Jeff Perry. Kenny Rogers, the Oak Ridge Boys, Chuck Norris, Lyle Lovett, Ray Price and several others have called to check in on Travis.
The North Carolina-born Travis is a traditional country purist known for hits "Forever and Ever, Amen" and "I Told You So." His 1986 Warner Bros. debut album "Storms of Life" sold 3 million copies, and helped return country music to the sound of Hank Williams and George Jones.
"I always feel like he's part of our family, he's in our family," Keith Urban said in an interview Wednesday morning in Nashville. "And I was one of those guys in Australia that bought `Storms of Life' and became a Randy fan very quickly in late `80s, and I really feel for him right now."