QA: Astronaut Mark Kelly on writing a kids book, missing space, and wife Gabrielle Giffords' continued recovery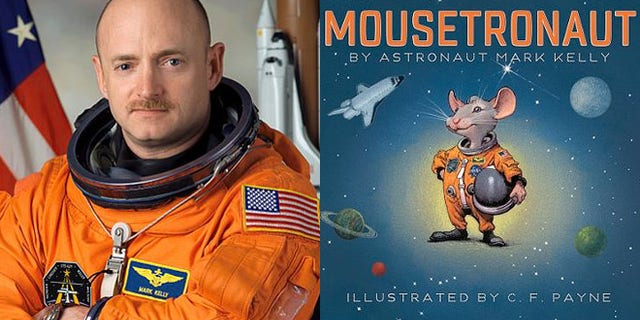 'Mousetronaut,' a charming picture book about Meteor, a plucky rodent who goes into space, is the first children's book by astronaut Mark Kelly, perhaps best known as the steadfast husband of Rep. Gabrielle Giffords who survived an assassination attempt at a campaign event last year that killed six others.
Kelly, a veteran of four space flights to the International Space Station, is one tough guy. He also flew thirty-nine combat missions in Operation Desert Storm. He spoke to FOX411 about how the book came about, missing space flight, and hi wife's continued recovery
FOX411: Why does a tough guy like you write a children's book?
Mark Kelly: On my first space flight I carried up some mice and I got the idea from one of then. I didn't do anything about it for a very long time because I was busy flying the space shuttle and all that. And why a children's book, because education is the most important thing I think we do in this country. It touches everything, and to have good books that will interest kids at a young age that they'll read is really important, and kids tend to be interested in space and in animals.
FOX411: Was it hard to write?
MK: It's much easier to write a children's book than a memoir. Once you have the story, and this story kind of got a little bit dropped in my lap.
FOX411: Do you miss going up?
MK: Do I miss it? Yeah! Course! It's a lot of fun, it's a great job.
FOX411: The first time you went up were you incredibly scared or incredibly excited?
MK: It's a lot of excitement, a little nervousness, more nervousness of messing it up because it's unexpected, like what is it going to be like? The scared part, at least for me, was not much of a factor.
FOX411: What's the one material thing you miss most when you're in space?
MK: A shower.
FOX411: And a toilet?
MK: We have a toilet? It would be nice to have gravity just for that function.
FOX411: Hey yeah how does that work?
MK: It's air that flows through there to make some suction. It's weird every time.
FOX411: You must have been sad about Neil Armstrong passing.
MK: Yeah I'd seen him a couple of times this year. In February and in April at Pensacola. He told me he was having some medical stuff done and then we find out he's in the hospital and then a couple of days later he passes away.
FOX411: How is Gabby doing?
MK: Great, she's still working hard, still improving. We just moved back to Tucson, so that's been great for her, very excited about that.
FOX411: Now that you're no longer an astronaut, how do you spend your days?
MK: I do some public speaking and some consulting. My primary role is to make sure Gabby has everything she needs. Rehab and all that stuff is in order. Occasional doctors appointments. Just making sure she's all taken care of, that's my number one job.
FOX411: The marriage vow is in sickness and in health, but you can't imagine something like that happening.
MK: Yeah, you don't plan on the assassination attempt.