Prince Harry 'knew how to save himself from collapsing in grief' during Princess Diana's funeral, book claims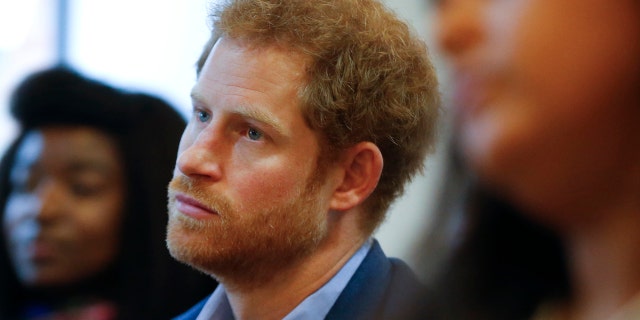 Prince Harry still vividly remembers one of the most painful days of his life.
When the British royal lost his mother Princess Diana of Wales at age 12 in 1997, he was made to walk behind her coffin in front of millions of mourners.
Harry, now 33, shared how he really felt about that tragic day to British journalist Angela Levin, who was compelled to explore the pivotal events that forever shaped the man who is sixth in line to the throne.
Levin, a veteran journalist on royal affairs, recently published a new biography titled "Harry: A Biography of a Prince," which was based on their exclusive conversations at Kensington Palace before his May 2018 marriage to American actress Meghan Markle.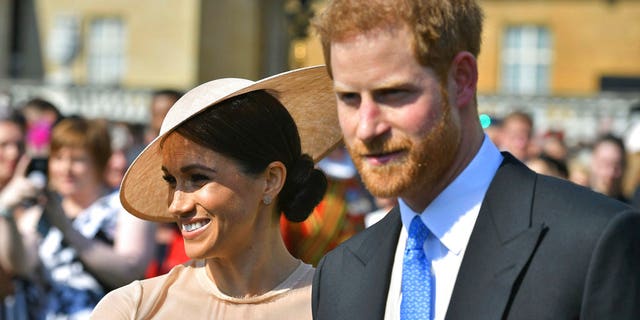 Levin had accompanied Harry on his many engagements and shadowed him for more than a year.
Levin told Fox News she was initially wary of bringing up Princess Diana, who died at age 36 from injuries sustained during a car crash in Paris, to her youngest son. But it was Harry who opened up.
"He suddenly stopped talking and he said to me how terrible it was for him at 12 to walk behind his mother's coffin in front of thousands of people with millions watching," she recalled. "It was a terrible thing for him to do. And it wouldn't happen now. I was just transfixed by this outpouring of emotion."
The decision for Harry and his older brother, then-15-year-old Prince William, to participate in the heartbreaking march was reportedly a collective family decision. Friends of the royal family have claimed that it was their grandfather, Prince Philip, who reportedly told the grieving young boys, "If I do it, will you?"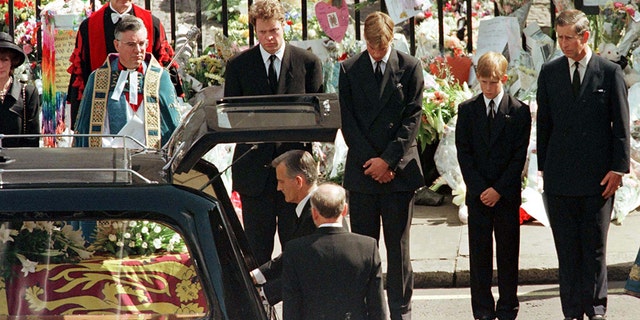 Harry admitted he did whatever he could not to break down in front of the world.
"He said the way he kept himself together was his determination not to cry in public," said Levin. "He gripped his wrists very tight and he wasn't going to do it. And I think that was his way of distancing himself from the grief.
"He said he nearly cried when Elton John played 'Candle in the Wind,' but he just about managed not to… As a little boy, he somehow knew how to save himself from collapsing in grief."
And the days leading up to the televised funeral weren't any easier. Harry shared he had a difficult time consoling strangers who screamed and cried over the news of Diana's death.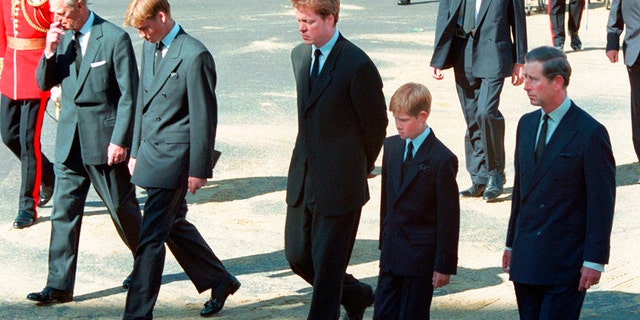 "[The boys] walked up to shake hands with a few of the people who were wailing behind the barriers," said Levin. "What he hated was that they were all wailing and crying over his mother, who never met her, didn't know who she really was.
"He was the one who lost his mother. And when they shook hands, he said their hands were all wet because they've been wiping their eyes from all the crying. He didn't like that. All these people were grieving over someone they didn't really know."
And while William is set out to become the future king of England, Harry spent several years trying to find himself, often stirring controversy for his reported nightclub hopping and rumored flings. But ultimately, Harry realized he must keep his mother's legacy alive and use his royal title for good.
"He wants to help the queen and take some of the responsibilities from her," explained Levin. "She's 92. He said to me many times, 'I want to make a difference. I don't just want to be Prince Harry. I want to be known for what I do. My mother is looking down on me and I want to continue her work. I feel she is beside me and I want to do [work involving] HIV, AIDS, and landmines to carry on her work.'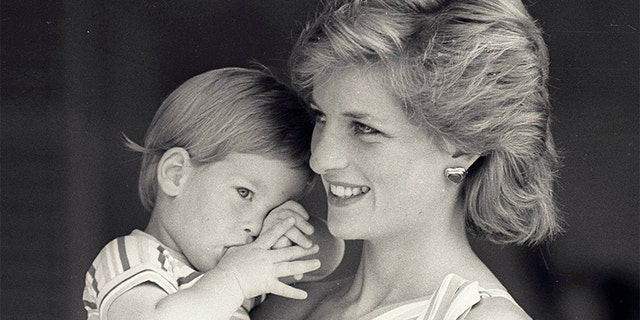 "He told me it took him a very long time to want to grow up. He didn't want to grow up. And I think that is because he still in a way wants to be his mother's little boy. He still wants to please her."
Harry insisted some of the happiest days of his life were when he was in the army. According to the royal family's website, Harry served in the army for 10 years, rising to the rank of captain and undertaking two tours of Afghanistan.
He continues to honor his servicemen and promotes support for wounded men and women as they adapt to life post-injury.
In 2013, The Guardian reported Harry, who was a commander of the army's most sophisticated attack helicopter, fired at the Taliban during operations to support ground troops, as well as rescued injured Afghan and NATO personnel.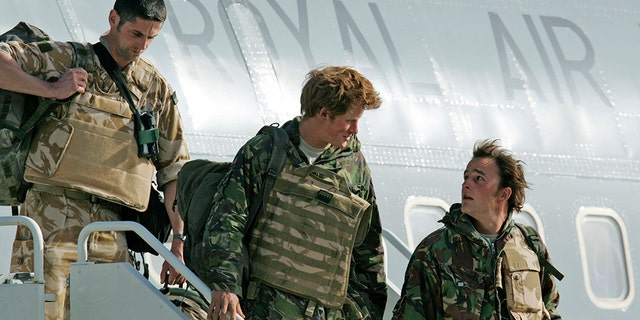 "He said to me that he was the happiest in the army because he was just Captain Wales," said Levin. "He wasn't Prince Harry. He loved being out in Afghanistan. He was brought back because someone leaked that he was there and it became too dangerous for him and the soldiers.
"He said one of the things he learned is that you can't do anything really well unless you work as a team. He's now very team-minded."
Levin revealed that it was her observation of Harry's willingness to help others that initially broke the ice and resulted in candid conversations between the two.
"I said, 'Your royal highness, I followed you for a year,'" she remembered. "'I've seen how you are with people who have problems. I just wonder whether you also used these opportunities to give yourself therapy. Has it helped you as well to overcome some of your problems?' There was a 50/50 chance I would have gotten thrown out.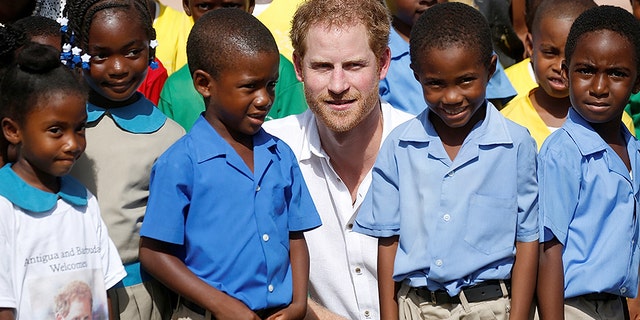 "There was a long silence, so I was sweating… He said, after a minute or so, which felt like ages, 'Wow. That's a really big question.' Silence again. 'You're right, of course.'"
Levin also insisted his marriage to Markle, now Britain's Duchess of Sussex, came at the right time for Harry, who has the future on his mind.
"I think this sort of lonely person who didn't know what to do with himself now has a team partner who is Meghan," she explained. "I think also, he wants children very badly. He loves children. He gets along with them very well. He's actually now grown up.
"And Meghan is quite motherly towards him. I think he needs that… There were women who were here today and gone tomorrow… But Meghan is different."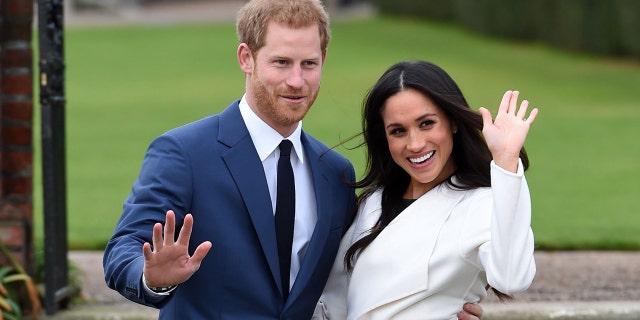 Levin hopes her book will show readers a genuine, caring side to Harry, one who is eager to carry on his mother's work, all while carving out his own role within the palace.
"He has a brilliantly quick sense of humor, which makes people very comfortable," said Levin. "He also can see right through people… And he's incredibly intuitive, instinctive, and emotional. He loves people… And he's a brilliant speechmaker.
"He definitely inherited those traits from his mother. And I think that's what makes him a fascinating young man."