'Pregnant & Dating' TV show earns some snark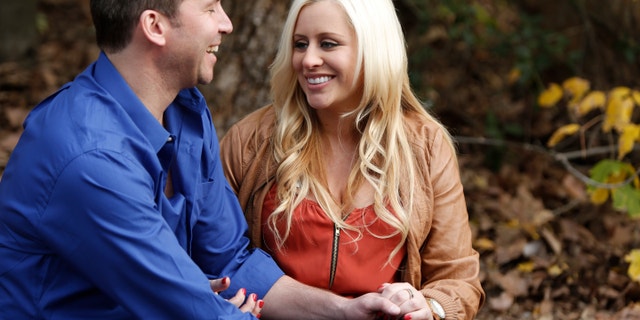 They aren't looking for sex and they're not in need of baby daddies. It's those two things that landed the singles ladies of "Pregnant & Dating" on reality TV to begin with.
Five in all, the growing and glowing women in WE tv's latest lineup play mini-golf, lace up bowling shoes and enjoy romantic non-alcoholic outings, but the mere idea of dating while pregnant has earned them a bit of snark.
"I see @WEtv has a show called #pregnantanddating. You straight people really are something else," tweeted gay comedian Dave Rubin.
While some of the on-air dates know about the pregnancies, most of the men have at least one awkward deer-in-the-camera-lights moment when the subject comes up. And then there's the subject of sex, which the show's moms-to-be are happy to mull on air. It's also the subject that generated a gross-out factor among some on social media.
But is dating while pregnant really all that wacky?
In a recent Associated Press-WE tv poll, 23 percent of men said they would consider starting a relationship with a woman who is pregnant. Among online dating options are a few sites promoting pregnant sex, hookups and even one offering "pregnant naughty chat."
Dating wasn't about sex for Melissa Meister, a model-turned-stylist in Los Angeles. Divorced, she attempted to have a baby on her own through a donor when she and her boyfriend of three years began trying together, and voila!
"About two months into my pregnancy I noticed that he posted he was in a relationship with somebody else on Facebook," she said in a recent telephone interview.
Dating, she said, was "about getting to know people and really finding out who they are, and for the first time in my life being confident to know my boundaries and what it is that that person would need to deliver in order to be in my life."
Among her dates was an aspiring actor, Eric Joseph. The two were introduced by a mutual friend and Joseph knew she was pregnant. He was new to Hollywood at the time of filming several months ago.
"I was kind of hesitant at first, you know, considering the whole pregnant thing," said the 30-year-old. Sex, he said, wasn't on the table.
"That really wasn't even part of the equation. If I had tried I think I would have gotten a slap in the face," he chuckled.
Nail technician Megan Aballi, 28, of Orange County, Calif., gets a romantic kiss or two from an old flame while out and about during her pregnancy on the show. But that's it.
"I definitely don't have sex on the show and that's not the point of dating," Aballi said. "The point was to find somebody who you can spend time with and who can be a life partner, not to have sex while dating."
The women, including swimsuit model Shana Prevette in Charlotte, N.C., and 43-year-old Rachel Klein, a TV and film producer in Hollywood who was expecting twins, bring their own baggage to the show.
Klein breaks down when she visits a matchmaker and Prevette mourns the absence of her child's father during a sonogram while also dealing with her changing body.
"Bikini model or not, for some people, a baby is a deal breaker," Prevette declares on the show as she enjoys evenings out.
It's enough to blow the minds of some real-life men. John Burr, a 39-year-old golf equipment salesman in Palm Desert, Calif., says he finds pregnant-specific dating sites "scary and creepy."
But he's not opposed to the idea of dating a pregnant woman. He's in a steady, six-year relationship with the mother of his 2-year-old daughter and does feel for single women trying to be pregnant all alone.
"That's something rough to deal with," he said. "If I was dating I wouldn't discount any person because of that factor."