Pink 'laughed out loud' after being named People Magazine's 2018 Most Beautiful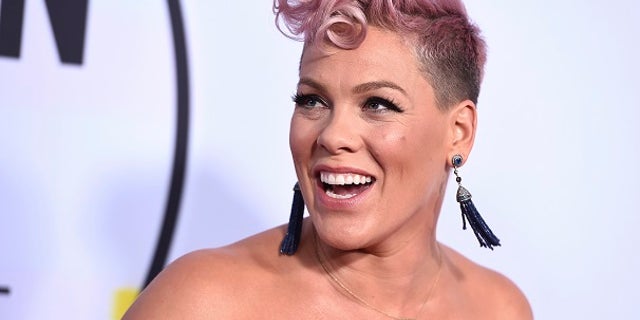 Pink admits she was shocked when she was told she was getting the title of 2018's Most Beautiful Woman.
The 38-year-old singer appears on "The Ellen DeGeneres Show" on Wednesday via satellite -- since she's currently touring in Washington, D.C. -- and talks about her new title bestowed by "People" magazine. Pink covers the newly renamed "Beautiful Issue" with her and husband Carey Hart's two kids, Willow, 6, and Jameson, 1, which was revealed on Wednesday.
"I laughed out loud," Pink tells DeGeneres about getting the initial call. "I immediately turned to whoever was in the room and said, 'Did you ever think this is as good as it gets?'"
Pink Named Most Beautiful Woman 2018
On a more serious note, Pink says she loves the way beauty standards are changing.
"I don't think my 13-year-old self would have listened," she marvels. "I love the way things are changing and I love how our perception of beauty has completely been knocked on its head. And there's nothing wrong with beautiful -- and there's nothing wrong with beautiful on the inside, beautiful on the outside -- it's all different shades, it's all different sizes, it means whatever it means to you, and I think on one hand my sense of humor is the best part of all of it, and on the other hand, it's a wonderful time that we're celebrating all different kinds of people."
Pink's Family Stars in 'Whatever You Want' Music Video -- See Their Home Videos!
In her interview with "People," Pink talks about raising her kids in a "label-less" environment.
"I feel like gender-neutral is in itself a label and I'm label-less," she notes. "I don't like labels at all so I believe that a woman and a girl can do anything. I believe that a boy can do anything. So I have boys that flip dirt bags and I have boy friends that wear dresses. It's all okay to me. It's whatever floats your boat. So that's the kind of house that we live in."
Pink's Daughter Willow Shaves Dad Carey Hart's Head -- See the Pic!