Peter Fonda sorry for Barron Trump tweet but his tweets often go too far
Peter Fonda is facing heat after deleting tweets in which he called for President Trump's son to be ripped from his mother's arms and thrown into "a cage with pedophiles." Although the star apologized for the over-the-line remarks, they are far from his first foray into harsh political rhetoric.
In another tweet, the younger brother of Jane Fonda suggested people opposed to the border policy should track down the addresses of federal agents and "surround their homes in protest." He added, "We should find out what schools their children go to and surround the schools in protest."
The Oscar-nominated actor has since deleted the controversial message about Barron Trump that included a rant against the first lady, Melania Trump.
"See if mother [Melania Trump] will will [sic] stand up against the giant a--hole she is married to," Fonda tweeted. "90 million people in the streets on the same weekend in the country. F---."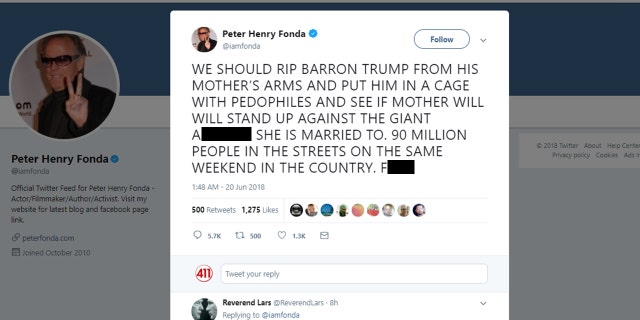 A cursory look at his Twitter feed reveals a cavalcade of politically charged tweets and retweets from left-leaning sources. His commentary is packed with expletives and directly calls out numerous people in the public eye he takes issue with.
In his tweets, he frequently compares Trump adviser Stephen Miller, who is Jewish, to Nazi propaganda minister Joseph Goebbels.
On Monday he wrote: "…the Pixie from Dixie let the immigrants with children into the country so they can take the children away and incarcerate them and deport the parents without their children. UNACCEPTABLE! Goebbels Miller is unfit to establish this practice as government policy. NAZI!"
On June 12, he wrote Republicans "are complicit in the raping of our country."
And on May 21 he seethed: "It's so embarrassing with these ignorant, immoral, bigots decimating our democracy and becoming a kakistocracy right before our eyes. Be prepared for an even more authoritarian decent when the curtain is pulled back on this totally unwizardly dolt and his klan of dangerous fools."
Fonda and his sister are notorious for speaking out against Trump. However, Peter Fonda isn't always on one side of the political aisle.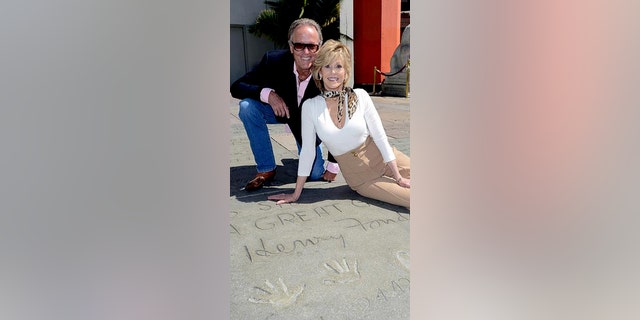 He was previously critical of the Obama administration. In 2011, the star walked the line of threatening the president of the United States by joking that he's teaching his grandchildren to use long-range rifles.
"For what purpose? Well, I'm not going to say the words Barack Obama…" he said at the Cannes Film Festival. "There's no room any more for a sissy and, like I said, don't forget that I've got grandsons who I've trained with long-distance rifles," Fonda repeated. "We have to run like [expletives] to change this world."
The star, at the time, was promoting his movie "The Big Fix," a documentary critical of the Obama administration's handling of the infamous BP Gulf oil spill.
Fonda claimed at the time that he "sent an email to President Obama saying, 'You are a f---ing traitor,' using those words... 'You're a traitor, you allowed foreign boots on our soil telling our military -- in this case the Coast Guard -- what they can and could not do, and telling us, the citizens of the United States, what we could or could not do.'"
Fonda is an accomplished actor with over a hundred film and TV credits. He's been nominated for two Oscars for his role in "Easy Rider" and "Ulee's Gold."

After the Secret Service revealed the organization had been notified about Fonda's tweets, the 78-year-old expressed regret for his statement about the president's 12-year-old son.
"I tweeted something highly inappropriate and vulgar about the president and his family in response to the devastating images I was seeing on television. Like many Americans, I am very impassioned and distraught over the situation with children separated from their families at the border, but I went way too far," he told Fox News. "It was wrong and I should not have done it. I immediately regretted it and sincerely apologize to the family for what I said and any hurt my words have caused."
Fonda's latest film, "Boundaries," is set to be released on Friday.
Fonda canceled an appearance at a press junket in Los Angeles to promote the movie on Wednesday following the backlash.
Sony, the studio behind the movie, issued a statement on Wednesday condemning the actor's tweets.
"Peter Fonda's comments are abhorrent, reckless and dangerous, and we condemn them completely," Sony stated. "It is important to note that Mr. Fonda plays a very minor role in the film. To pull or alter this film at this point would unfairly penalize the filmmaker Shana Feste's accomplishment, the many actors, crew members and other creative talent that worked hard on the project."