Paris Jackson explains Dior show walkout: 'I will always be myself'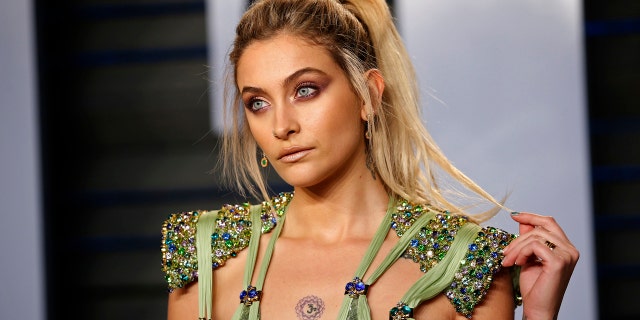 NEWYou can now listen to Fox News articles!
Paris Jackson is speaking out after she startled everyone by walking out of a Dior fashion show last week outside the French capital.
After reports that the daughter of late superstar Michael Jackson made a statement by suddenly leaving the rodeo-themed Dior Cruise show, the young star took to Twitter to explain her actions.
"To be clear, I did not 'storm out' of the show. I quietly got up and walked out trying my hardest to not cause a scene, because I do not support animals being branded and whipped," Jackson clarified. "Not trying to become enemies in the fashion world in any way, but I will always be myself."
A source close to Jackson confirmed her Twitter statement to People Magazine and further explained that the 20-year-old did not feel comfortable with the use of the horses for the Western-inspired runway, which featured rodeo riders performing during the show.
"She was uncomfortable with how the horses were being handled (the whipping sound was loud) so she quietly slipped out," the source explained. "The ladies performing with the horses were riding side-saddle so they had to use a crop to get the horses to go straight and it was pouring rain with no tent. Paris meant no disrespect to the brand. She loved the collection and had a wonderful time in Paris with Dior."
After she left the show, Jackson shared a photo of herself standing in the rain outside of the venue while the show was going on and said, "Left early n did this."
Just a few days prior, the star made headlines at the Billboard Music Awards after it was noted that she was not in the audience with the rest of her family during her aunt Janet Jackson's performance.
The model defended her absence on social media and said, "Dear social media followers, friends, stalkers, lovers and haters, and fellow moonwalkers: Please do not tell me/demands/try to control how I handle my relationship with the people in my life, specifically my family," she wrote in an Instagram story.
"As amazing and as s—-- as things can be, it is no one's business but ours. I understand that some of you feel some sort of connection or need to be a part of our lives considering you watched us grow up. However, I am handling my situation exactly how my father did. And I am happy keeping it that way. I will always have love and respect for my family. ALWAYS."